Kristy Starling on ... Becoming a Star
Laura MacCorkle, Senior Editor for Fun
Tuesday, June 03, 2003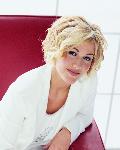 "American Idol", "Star Search", "Fame" … there's no doubt that Kristy Starling had a wide array of shows to choose from to help make her dreams come true.  But the 22-year-old college student wasn't looking for fame, fortune, or a record deal via televised talent competitions this time last year.  She was merely focusing on finishing college and planning her wedding for the summer of 2002. 
Then came an opportunity she couldn't pass up.  The "Today's Superstar" competition (on NBC's "The Today Show"), which aired twice weekly last fall, was looking for entries.  And spurred on by her mother-in-law, Kristy decided to send in her two-song, videotaped entry and try out.  Little did she know then that she'd be selected from more than 4,000 entries and win second place overall (viewers of "The Today Show" chose the winners online). 
The once-shy vocalist also landed herself a record deal with Warner Bros. Records Christian Division and was quickly whisked into the studio with a slew of big name producers (David Foster, Richard Marx, Billy Mann, Pete Kipley, Dan Mukala) to lay down tracks as quickly as possible to make an April 15 album release date. 
On street week, Kristy unveiled the project with a live performance on "The Today Show" where host Katie Couric interviewed her briefly about her whirlwind rise to fame.  Recently, Crosswalk.com sat down with Kristy and asked her a little more about the making of a star.


---
Crosswalk.com:  What were you doing a year ago at this time?
Kristy Starling:  Okay, let me think.  I was a full-time student in college just studying to be in youth ministry.  I was focusing on finishing school at Southwestern Assembly of God University.  Just a full-time student hanging out.  Also, I got married last July, so I was in the middle of planning a wedding … doing all this crazy stuff. 

CW:  How did you even find out about the competition on "The Today Show"?
Kristy:  My mother-in-law told me about it.  She said "You have to send your tape in."  So I sent it in for my family, because I didn't really think anything would come of it.  "The Today Show" gave me a list of songs that I had to choose from and I sang a minute of "Hero" by Mariah Carey and then the national anthem.  I think I was one of the last videos to get in.  One of the producers called and said we wanted to pick you for the top 25, but we're still going to narrow it down to 6.  So they called and interviewed me a lot over the phone – just to get to know me and my situation. They went to my home church and videotaped my home church choir, who I used to sing with.  They sang me a song -- "New York, New York".  They interviewed my family.  And they actually flew my family to one show. 

CW:  What was the whole "Today Show" experience like?
Kristy:  Wow.  It was so unique.  It was so cool.  It was something that I never imagined could happen to me.  Like winning Publisher's Clearinghouse.  Those cool things don't happen.  When I got to be on it, it was just like a dream.  It still doesn't process in my mind that I was on "The Today Show" like eight times.  It was neat getting to meet all of the people – I got to meet so many famous people that have been kind of role models.  Like Bill Cosby. 

CW:  Who were you most excited to meet out of all of the celebrities you encountered?
Kristy:  I would say Bill Cosby was probably the coolest guy I met.  Adam Sandler – I love his movies so that was cool to meet him.  I got to meet Joan Rivers, Joey Fatone – just really cool people who are just stars. Some of them were really stars.  But Bill Cosby was so down to earth.  He just sat down and talked with me about school.  He and then Katie and Al and Ann, too.  They're all so down to earth.  Me, being in the position that I'm in … well, it's cool because I've seen the stars who treat me like they're a star and then the stars who treat me like I'm a normal person.  And so it makes me so conscious that I don't want to be like that or turn out like that. 
Have something to say about this article? Leave your comment via Facebook below!
advertise with us
Example: "Gen 1:1" "John 3" "Moses" "trust"
Advanced Search
Listen to Your Favorite Pastors