Kristy Starling on ... Becoming a Star
Laura MacCorkle, Senior Editor for Fun
Tuesday, June 03, 2003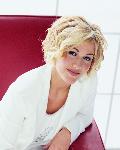 CW:  Have you thought about what you can do to help keep you grounded?
Kristy:  My husband!  He keeps me really grounded.  Just staying in personal contact with the Lord.  You realize that you didn't get yourself there … that the Lord totally put me where I am.  There's nothing that I could have done to have planned this out myself.  If I tried to say "Hey 'Today Show', can y'all have me on?", there's no way it would have happened.  But just trusting in the Lord to take me where He's going to take me.  He said if you abide in me then I can do the things that I've called you to do and I can do bigger things than you can even think of.  It's cool to see what God is doing.

CW:  What does your husband say to you?
Kristy:  If I say something that sounds sort of like I think I'm all that, he'll say "please … don't even talk to me like that.  I'm going to go ahead and let you say that again."  And I know that that's my hint that I'm being too whatever.  He's the most genuine, down-to-earth person, and that's why I love him.  I am no more important than the next person.  I just get to do what I love to do, you know?  I just want people to know that.  I don't want people to have this image of me that I'm somebody I'm not. 

CW:  What was it like working with David Foster and the other mega producers?
Kristy:  How did I get there?  It's been the question of the year.  "Lord, how in the world and why in the world would you use me and why did you pick me?"  Getting to work with David Foster … I'm singing behind the same mic that Celine Dion sings behind.  I was totally not worthy to be standing there.  It was so amazing just to see the confidence that they had in me.  I thought maybe I should have more confidence in myself.  But I thought there's no way I can match Celine Dion.  But [David Foster] wanted me to be me.  He didn't want me to try and match the way Celine Dion sings.  Richard Marx was the same way.  He'd say, "Kristy you sing like you.  Don't sing like this person."  And so he really just made me say, "Okay I'm at this point because I sang like me, so I need to sing like myself."  You can compare yourself to so many people.  But when you do that, you don't get the real thing.  It's been such a learning experience.

CW:  Who chose the cover songs on your album and what was it like recording those? 
Kristy:  The Richard Marx song, "To Where You Are," it's the Josh Groban song.  That one, I think David Foster called Richard Marx and said what would you think about Kristy re-doing this.  I loved that song so I thought, At least I'll love singing it.  But then I started thinking, Wow nobody can beat Josh Groban.  But I just sang it how I sing it.  And that was what was cool.  And then the LeAnn Rimes song, "I Need You" … some of the people at Word [Records] said that a lot of Christian radio stations wanted to play this song, but they wanted to play a Christian artist.  I love that song!

CW:  What has been your favorite part of the process so far?
Kristy:  Probably recording.  It was just a dream to get the product out and done.  But also meeting the people I've met.  There's so many cool people that I never could have met if I hadn't gotten in to all this.  It's not even necessarily famous people.  It's just friendships that I've gotten from people with the label or people that I've met. 

CW:  What's the best piece of advice you've gotten in the past year?
Have something to say about this article? Leave your comment via Facebook below!
advertise with us
Example: "Gen 1:1" "John 3" "Moses" "trust"
Advanced Search
Listen to Your Favorite Pastors