Kristy Starling on ... Becoming a Star
Laura MacCorkle, Senior Editor for Fun
Tuesday, June 03, 2003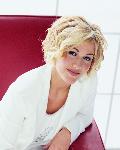 Kristy:  To stay me.  To remain genuine.  Not be someone that I'm not.  Don't try and sing music that I can't sing.  Just to be genuine and be who I am.  Because if that stays in line then everything else will fall into place.  When you try to be something you're not, it gets out of hand. 

CW:  Would you turn around and give this same advice to the next 'Kristy Starling"?
Kristy:  Totally.  Because that's what people want to see.  They don't want to see the star who knows they're a star.  They want to see people just like them because they can relate.  I would give that advice to anybody.  And not even in becoming famous, but even in your daily life.  Be genuine.  Be real.  People are attracted to that.

CW:  Have you been able to meet any other Christian artists who you love or look up to or admire?
Kristy:  Yes! Nichole Nordeman is my favorite person ever, and I got to meet her.  Amy Grant, Point of Grace, Jaci Velasquez – all these people who I've listened to growing up.  It's so great to meet them and get to know them.

CW:  What do you hope your life is like a year from now?
Kristy:  I hope that the music I have made has been successful, but I mostly hope that people have been ministered to.  I hope my life is just where God wants me to be.  I'm hope I'm in His will.  I want to see where God's brought me from to where I am now.  If I'd planned it, it wouldn't have been this good.  So I say, "God, you plan out this, and I'll follow what You have planned out for me."  Also, I hope that I'll be able to tour and be played on the radio, too.  I just want to be in God's will.

CW:  What do you hope that people say about you after they've met you?
Kristy:  Just that I love God, and I love people.  I just never want to get to the point where I'm out of someone's reach or not approachable.  I'm so ministry oriented that that's just bred in me that that's what God's called me to be.  So I love people, and I just want to be a people person.  I just want to be real, 'cause I know kids are starving for that these days.  And I have a heart for youth.  My husband's going to be a youth pastor.  My brother's a youth pastor.  My uncle's a youth pastor. Youth – I just really click with them.  And I want to be consistent in my faith, so that they can have someone to look up to. 
Have something to say about this article? Leave your comment via Facebook below!
advertise with us
Example: "Gen 1:1" "John 3" "Moses" "trust"
Advanced Search
Listen to Your Favorite Pastors