LaRue Joins Bebo Norman Tour This Month
Laura MacCorkle

Senior Editor, Fun Channel

2002

17 Oct

COMMENTS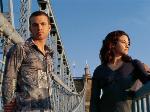 Brother/sister duo LaRue will join the second leg of Bebo Norman's "Fall Circa 2002 Tour" beginning October 22 in Jackson, Miss.  In addition to headliner Bebo Norman, Vertical Music band Ten Shekel Shirt is also featured on the tour, which began early September and will run through mid-December.
Earlier this month, Philip and Natalie LaRue released their third project on Reunion Records, Reaching.  Produced by Monroe Jones (Chris Rice, Ginny Owens), Matt Bronlewee (Rebecca St. James), and Ken Mary (LaRue's first two projects) Reaching features the writing talents of the siblings, as well as the talents of their touring band who recorded for the project instead of session players.  
"Reaching revolves around the theme of surrender--surrendering emotions and feelings, surrendering relationships, and surrendering to God," Phillip says.  "It's not necessarily every song, but when you listen, you get a feeling of giving things up or letting go to God."
In 1999, LaRue released its self-titled debut with the songs "Waiting Room", "Reason", and "Someday" becoming radio favorites.  The video for "Reason" was also added to The Disney Channel's video rotation.  "Fly" from Transparent, LaRue's sophomore release, was added to the movie soundtrack for Left Behind, while the video for "Jaded" garnered LaRue more time in video rotation on the Disney Channel. 
For more information about LaRue, visit www.laruemusic.com.