Leeland: Following Love
Lindsay Williams, CCMmagazine.com
Thursday, October 01, 2009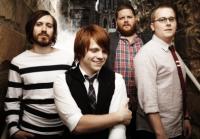 "Then the righteous will answer Him, 'Lord, when did we see you hungry and feed you, or thirsty and give you something to drink? When did we see you a stranger and invite you in, or needing clothes and clothe you? When did we see you sick or in prison and go to visit you?' The King will reply, 'I tell you the truth, whatever you did for one of the least of these brothers of mine, you did for me.'"
— Matthew 25:37-40
Africa. Australia. Japan. Cambodia. Bangladesh … Baytown, Texas.
Whether across the globe or in its hometown of Baytown, Leeland is taking dirty hands and a passionate message to the world: Faith without works is dead.
It's a timeless mantra—tried and true. But for Leeland Mooring (lead vocals/guitars), his brother Jack (vocals/keys), cousin Jake Holtz (bass) and longtime friend Mike Smith (drums), nothing rings truer for these four 20-somethings in this season of life. A glance at the band's schedule over the past few years reveals not only several notable tours (including a massive arena tour with Casting Crowns) but also tireless hours of charitable work both domestically and abroad.
This comes as no surprise to anyone familiar with the band's previous work. Themes of social awareness permeated 2006's Sound of Melodies and 2008's Opposite Way (Essential). The two albums garnered the band numerous Dove Award nominations and two GRAMMY nods, broadening its platform and thrusting the songwriting prowess of Leeland (who incidentally wrote his first song at age 11) into the spotlight. However, the release of the band's third record, Love Is on the Move, ups the ante both musically and philosophically. Produced by Ed Cash (Chris Tomlin, David Crowder Band) and Steve Wilson (Fish, Hawk Nelson), the album is a direct result of a shift in perspective for the band.
Leeland explains, "For a while, we were just this band from Baytown, Texas, and all we saw was our little church where God has been doing awesome and incredible things. But he's really been opening our vision to all the hurting people—especially the poor—around the world and making it clear we should help by being a part of spreading his kingdom."
This expanding worldview helped fuel the direction for the new record, and Love Is on the Move soon morphed into an opus of passionate cries in pursuit of justice. "Worship, justice and action are not separate; they are united," Leeland says. "For every worship song we sing, we should match that with an act of justice and an act of love."
The band stakes the album's theme on the ultimate sacrifice. "Love isn't really love unless it's backed by action. Jesus showed us this at the cross," Jack attests. Essentially, Christ was "love on the move" personified. "Jesus was the first to be 'love on the move' when he went to the cross. But when he did that, he transferred that love to us so we become his 'love on the move,'" Leeland adds.
While prior outings certainly hinted at these assumptions, the new record, with its Coldplay-esque melodies and depth of lyricism, takes the correlation to a new level. "The whole idea of love and action is woven through the fabric of these songs," Jack explains. "You'll see a real intimacy in the lyrics of this record. Our heart as a band is to have that pure worship experience with God, and I think these songs communicate that longing."
Have something to say about this article? Leave your comment via Facebook below!
advertise with us
Example: "Gen 1:1" "John 3" "Moses" "trust"
Advanced Search
Listen to Your Favorite Pastors