Let's Roll - Music Review
Ginny McCabe

Music Reviewer

2003

17 Jan

COMMENTS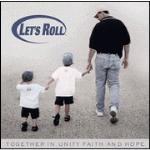 Artists:  Various
Label:   770 Records/TMB
Let's Roll is a compilation project that honors the heroic actions taken by Todd Beamer and others on United Airlines Flight 93, which crashed in Pennsylvania on Sept. 11, 2001. 
Beamer's last known words, "Let's roll," are echoed and expressed through contributions of a multi-genre and diverse group of artists and musical styles. From dc Talk's almost cheer-like yet inspiring title cut to moving tearjerkers such as Wynonna's "Carry On," this project offers something for everyone.
Let's Roll was created and produced by some of music's most outstanding talents, and this shows up in everything you hear.
Used by permission.  CCM Magazine © 2003  Click here to subscribe.