Listening In … with Jeff Deyo and Dave Ramsey
CCM Magazine
Tuesday, March 30, 2004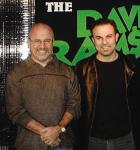 For this month's "Listening In…" we've arranged for you to "eavesdrop" on a candid conversation between Gotee recording artist Jeff Deyo and national radio talk show host/author Dave Ramsey.
Deyo, of course, co-founded Sonicflood before going on to pursue a solo career as a worship leader. He recently released his new album, "Light," which features duets with Third Day's Mac Powell, Natalie Grant and Rita Springer. Ramsey, meanwhile, can currently be heard on almost 200 radio stations discussing finances. While some Christian programmers carry "The Dave Ramsey Show," his cut-to-the-chase advice is primarily broadcast on mainstream outlets. (For more information visit daveramsey.com.)
Jeff:  So here I am, an artist; and I've been in Nashville since '93. There are some traps that happen for artists when they come to town. They have these big dreams of making lots of money. You think, "OK, those people are probably making serious money." In fact, one of the guys in my band said he had a friend of his who came down after he joined my band; and he said, "Come on, Fred, tell me the truth: You guys are making six figures, right?" They're barely on salary.
Dave:  [laughs]
Jeff:  "And Jeff's making a million dollars a year, isn't he? He's making at least a million!" And I said, "Well, not quite."
Dave: [laughs] Not quite.
Jeff:  Guys like us, we come in; and we're trying so hard to make it, but it's a challenging thing because you need a lot of stuff to make it happen. You're trying to get a great guitar so you can sound good; you're trying to do all these things to get a record deal and get noticed. You end up in debt. And you're all trying to do it for the good cause of the gospel. But in the music industry, the money comes nine to 12 months after the success. So you're kind of in this mentality where you're spending the money before you get it. You know it's coming, but you never get to enjoy it because when it comes in, you're  paying off those credit card debts. So how do you talk to musicians about all this stuff?
Dave:  Getting into debt to live your dream is not a new story. It's the story my wife, Sharon, and I lived, too. We got married. Then to live our dream, we were going to be real estate moguls. We got four million dollars worth of real estate, starting from nothing, by the time we were 26 years old. We made $250,000 at 20-something years old one year. Sometimes you hear people say, "All those rich people are miserable!" Uh-uh! We were having fun! But the bank got sold, and the tellers were making the decisions. They called our notes, and the short story is we spent the next two and a half years losing everything we owned. We were sued; we were foreclosed on; and finally, with a brand new baby and a toddler, scared to death at the bottom of that mess, we were bankrupt. That was 15 years ago, and we started over. At the bottom of that, being a financial guy – a broke financial guy – I decided I was going to learn how money really works. As a baby Christian, I had met the Lord on the way up – I do everything backwards – and as a baby Christian, I was going to see what the Bible had to say about money. Nobody talks about it much because it's like a lot of things in the Bible: It's apparently uncomfortable when you start realizing: This is the truth, and I'm going to have to apply it; or I'm going to have to ignore it.
Jeff:  Yes.
Dave:  What's a good plan to handle His money His way? How do you deal with that when you dream yourself into debt, and it creates a mess for you? It sure is a painful way to learn. Hopefully we can catch a few young artists with this conversation and go, "Stop it! Don't do it! Please, don't do it! Don't finance your dream!"
Have something to say about this article? Leave your comment via Facebook below!
advertise with us
Example: "Gen 1:1" "John 3" "Moses" "trust"
Advanced Search
Listen to Your Favorite Pastors