Listening in: Rebecca St. James & Evie Tornquist
Andrea Bailey, CCM Magazine
Wednesday, May 11, 2005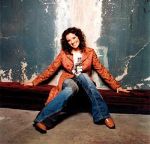 Evie:  I love that! And by the way, if I could describe you in a single word, it would be "genuine!" The real thing, the real McCoy. What you see is what you get. I always tell people that the transparent heart that is obvious in your music and when you're onstage is just as evident one on one. I tell them, "That's why I love Rebecca so much. She's down-to-earth. She is one who's unassuming and real through and through. Her love for Christ is everything you would think it is when you listen to her music and more. Her love for family and friends – her infectious passion for the Lord – and to boot, she's an awful lot of fun!
 
RSJ:  We're not always serious. We do have fun and laugh a lot.
 
Evie:  We can find something hilarious in just about everything, can't we, Bec — especially if we're tired! We share quite a few laughs about things that go wrong and where we feel insecure. We laugh at bad hair days, when the humidity makes your hair go curly and makes mine totally go flat! We laugh at everything and nothing. We share things about our relationship with family and friends, decorating, cooking and who's got the best sale going – that's the wonderful thing!  We have lots of similar enjoyments in everything from Thai food to a good sale at H&M – one of our favorite stores!
 
RSJ:  We talk very little about music when we hang out, but I know people will want to know your thoughts about Christian music, Evie, and how it's changed from the days you were walking much the same path I'm walking now. I can appreciate how you paved the way for artists like me, and for that I am totally grateful.  I know we've talked about the fact that for you it was somewhat of a lonely road as you were often out there on your own, trying to be in a music ministry when the concept of [contemporary] Christian music still barely existed.
 
Evie:  Really, come to think of it, the music part of our friendship is almost a sideline – it really is! But to talk about music for a minute -- while clearly this is a new day and a new era – there are certain things that are very similar and other elements that are different. I never had a manager or a PR gal for instance! My mother helped with all the particulars of booking me on concert tours and with Billy Graham and television stations and that. But really, it was just my mom and me.
Today, what you have, Bec, is a much larger team that is, in a very real way, supporting you every day. I sure wish I'd had more of that myself. It was often lonely for me. I traveled the entire world many times over. It was a little bag with my soundtracks and me – and that was it! I'm grateful you don't have to be so alone. But on the other hand, there's a lot that comes with having this larger support team – challenges come with that.
Rebecca … does being the mentor in this relationship mean I get the final few words?
 
RSJ:  Yes!
 
Evie:  I love you, Bec, and we together love and adore You, Jesus!

© 2005 CCM Magazine.  All rights reserved.  Used with permission.  Click here to subscribe.
Have something to say about this article? Leave your comment via Facebook below!
advertise with us
Example: "Gen 1:1" "John 3" "Moses" "trust"
Advanced Search
Listen to Your Favorite Pastors