Listening In: Third Day's Mark Lee & Brad Stine
Mark Lee & Brad Stine, CCM Magazine
Tuesday, March 29, 2005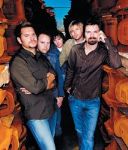 Guitarist Mark Lee (and the rest of his Third Day bandmates) and Brad Stine met for the first time at a barbeque joint in Kansas City when Brad was breaking into the Christian community as a comedian who'd previously worked only in the mainstream. And though he may be a renowned comedian and the author of "Being a Christian Without Being an Idiot" who's also been a guest on major market radio shows, The New Yorker, Promise Keeper events and more.
Brad's not all about the laughs when it comes to discussing what goes on in the Christian world. A rock guitarist and a comedian are certainly in two different worlds, but we're sure you'll be pleasantly surprised at how much these two have in common as we listen in on their recent phone conversation.
Brad:  I came out of the comedy world, but I was always a Christian. But I didn't commit myself to that world. We often "dumb down" our opportunity for what entertainment can be when it has "Christian" attached to it. That was my purpose in making myself available to that world. But I was concerned because I'm not doing it the way they're used to seeing it done.
Mark:  For a lot of people, when they go from being a musician to being a Christian musician — or go from being a comedian to a Christian comedian — there's a stigma there that they have to change what they do because the audience is different.
Brad:  What I discovered is there's a difference between adapting and compromising. I, as an artist, made a living as a headliner in comedy clubs throughout this country. I had to compete against comics who were using the "f" word every other second, and then here I'd come on. As you know, the people who precede you set the tone of the room. And suddenly, it was 100 percent curse free with no sexual references. The interesting thing about it is that so many people would talk about how hard it must be to be so clean. That always fascinated me because, to me, the fun and joy of art is in the creativity, and I didn't see creativity in crudeness. It shows what your worldview is. What makes you valuable and purposeful shades the way you communicate with people. Why wouldn't it be more fun, as a comic, to not use the words that are going to get a laugh — that aren't in and of themselves creative? The template I always give is: If you tell a joke with curse words in it, and you take the curse words out and the joke isn't funny anymore, the joke wasn't funny in the first place.
Mark:  There are probably people in churches who are in conference meetings, wanting to do exactly what you're talking about doing. [They're saying,] "We've gotta figure out a way to get out and be in the world." And it sounds like you've been doing that for years. We've found that as musicians and songwriters. God has chosen us as a way to reach other people. Whether it be writing songs or performing or getting up onstage and doing your show, God is using that to reach people. I think a lot of times we try to add on other things. We'll say, "We're doing Christian music, so we've got to try and say this, this and this …" If you just be yourself, the audience needs that connection.
Brad:  The buzz word at the moment is authenticity. It's the idea that when Christians become real, they become relevant. People need to see that my soul is saved, but my flesh will continue to be corrupt until I don't exist anymore. By taking the approach — and I do it through comedy and you do it musically — of saying, "I am flawed. I do struggle with the same things you do," is much more relatable and much more of a synergistic attachment to that other person. Then, the sense of "I'm saved, and everything's perfect" is not the case — and we all know it's not the case. But we've created a tradition of being afraid to expose ourselves on the journey.
Have something to say about this article? Leave your comment via Facebook below!
advertise with us
Example: "Gen 1:1" "John 3" "Moses" "trust"
Advanced Search
Listen to Your Favorite Pastors