Listening in With Stephen Baldwin, John Wells & Alec Baldwin
CCM Magazine
Monday, April 05, 2004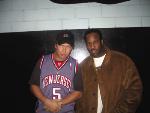 When we heard that Stephen Baldwin ("The Usual Suspects", "Celebrity Mole") was teaming up with Luis Palau's ministry to create "Living It," a faith-based DVD featuring skaters and BMXers, the Hollywood actor had our attention. And when we discovered he and Cross Movement's John Wells were good friends, we knew it was time to eavesdrop on a conversation.
But when they met for the interview in a New York restaurant, who should show up but Stephen's older brother, Alec ("The Hunt For Red October", "The Cooler"), who was there for a press conference. We wish we could share the entire conversation (all two hours), but, alas, space wouldn't allow. However, you can catch more of their discussion at CCMmagazine.com.
Alec:  Did you guys just meet, or do you know each other?
Stephen:  We met at a Christian hip-hop thing in Harlem that I just showed up at.
John:  The Bronx. Rap-Fest in the Bronx.
Stephen:  I only went there to see these guys.
John:  Which was crazy.
Stephen:  A big part of my whole freaky-deaky kind of tip early on in my salvation was that there wasn't anything cool for me to watch or listen to. So one day I found a CD by the Cross Movement, a record called "Human Emergency." It was … as slammin' as anything else I heard by Puffy or this or that guy. When I first heard Kirk Franklin, I said to myself, "OK, well, maybe this whole Christian content thing in relation to film, TV, music isn't there yet; but it's coming." And one of the confirmations of that, for me, was your record.
Alec:  What are you eating?
Stephen:  I ordered the steak things on a stick. What do you call that?
Alec:  You feel that slicing up and scorching the flesh of a cow is not any kind of impediment into the gates of heaven? But rolling the leaf of the tobacco plant and smoking that in your mouth – that is, of course, forbidden.
Stephen:  Your body is a temple.
Alec:  Your body is a temple, but to inject into the body the scorched, seared cow flesh is not an impediment?
Stephen:  No. All things have been made clean. When Jesus came He made all things clean.
Alec:  Jesus said, "I put the cows here for you to burn them and to consume them, to eat them"?
Stephen: Absolutely. (laughs) 
Stephen: So what I was saying was that one of the things that was a push for me was "Human Emergency." And I was sitting there going, 'I've gotta get in touch with Kirk Franklin; I've gotta get in touch with these guys, The Cross Movement and say: "Hey man, what can I do to help? How do we get together?' It's just very interesting for me to know that on the Hollywood side of things, whatever I could do to stitch it up or to be a part of creating new content that is not completely of the world would be cool.
John:  I know that's got to be a hard road. Being a Hollywood Christian is almost similar to what people would say about being a Christian hip-hop artist: It seems like an oxymoron. How is it possible for that to exist?
Stephen:  Cross Movement is a hip-hop group of believers. You're already in that genre, world, etc. Stephen Baldwin is a guy who the world sees as this crazy rebel guy, and now the Lord's done snatched me up. I'm still in the transitional period where I know what's going on with me, and I've completely submitted to it; but that world don't know yet what's going on with me.
Have something to say about this article? Leave your comment via Facebook below!
advertise with us
Example: "Gen 1:1" "John 3" "Moses" "trust"
Advanced Search
Listen to Your Favorite Pastors