Mary Mary's 12-Step Program to Success
Anthony Barr-Jeffrey, CCM Magazine
Tuesday, September 06, 2005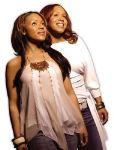 8) Try something unexpectedly new and wonderful for new record. Check.
Although some songs on their latest release are textbook "Mary Mary" tracks, complete with ultra-polished urban radio beats and gospel-laced harmonies, they also prove that motherhood can mean new energy for new things. Tina is quick to respond to the idea that having a family means losing your creative spark. "I think the consensus is that you are supposed to become a lot more conservative, a lot more boring overall when you have children. A lot of your time is consumed with children, but for the most part, it seems to me that you are the same person. Maybe your personality even deepens."
Tina may have become even more detailed-oriented than before and Erica more free spirited, but these two still balance and complement each other creatively. Ultimately, the tiebreaker may have been their long-time collaborator, super producer and Erica's husband, Warryn Campbell (Brandy, Luther Vandross, Sisqo). Suddenly, the ladies' smooth sound is injected with touches of '60s soul, 1930s' big band swing, Andrew Sisters-esque harmonies and even gritty blues gospel. Although these turns were admittedly a stretch, Erica's excitement about their musical growth is obvious. "When we first started writing, it was very important for us to not write what had been written in the same way that it had been written before. Being unique, original and not predictable is important to who we are."
9) Make sure trite lyrics don't stymie good music. Check.
Regarding their growth as lyricists, Tina explains how they avoided stagnation and kept their eyes on reaching those unfamiliar with churchy language. "We had teams of people not necessarily from the Christian world, and they would push us … they would question some of the things we would put into the songs that we initially wrote. They would say, 'I don't really understand what you are talking about, but I guess it sounds good; I don't really get it but I like it.'" She continues, "You want people to understand what you are talking about; you want to push people to think and to paint a picture, not just to make something that sounds good." And lest anyone get the idea that the sisters sit around tweaking their lyrics to be interesting and clever, Erica is quick to note that sometimes she was struck with a song while heating a bottle of milk. She says plainly, "It's not always such a deep process, but if it's already been said, it's like 'Nope, no clichés, sorry, good-bye.'"
10) Prayerfully seek God's will for new album and upcoming tour. Check.
Ultimately neither public nor family expectation set the bar for their new release. For Tina and Erica, their existence as Mary Mary seems boiled down to a mantra-like prayer they recalled throughout this new project: "God, if you're not speaking, we don't want to pick up the pen and write. If you're not a part of this creativity, because we're just trying to get the job done or meet the standards of the record company or whoever, would you please make us aware of that so we can put the pencil down and go home? What we want to do is your will, and what we want to say is what you would have us say."
11) Dress and feed, dance and sing with the babies. Check.
12) Continue great musical career. Check.

© 2005 CCM Magazine.  All rights reserved.  Used with permission.  Click here to subscribe.
Have something to say about this article? Leave your comment via Facebook below!
advertise with us
Example: "Gen 1:1" "John 3" "Moses" "trust"
Advanced Search
Listen to Your Favorite Pastors