Mercy Me: Breathing Deeply
Beau Black, CCM Magazine
Tuesday, May 23, 2006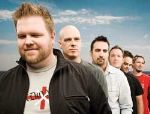 A loved one diagnosed with cancer. Another killed in a car wreck. A parent gone too soon. During the making and subsequent release of 2004's "Undone" (INO), it seemed to be bad news on top of bad news for the guys in MercyMe. They've become a sort of poster band for loss, heralded by their signature, culture-impacting ballad, "I Can Only Imagine," and its sequel, "Homesick."
But life's different now. Though some struggles remain, it's spring, both spiritually and literally, on the day we meet up in Dallas near the band's home in Greenville, Texas. Guitarist Mike Scheuchzer says that "after all those things, right now it seems everything's pretty good. [Front man Bart Millard's] father-in-law is still having some health problems, but it seems like they can come up for air right now. And I think that comes across on the record."
With the success of their first three albums (selling four million copies and counting), the band has earned the right to stretch a little on its newest, and the guys are eager to talk about making it. The difference is instantly noticeable but measured. It's an evolution and extension of their first three albums but not a huge departure.
Returning to Their Roots
"We were a rock band when we first started," Millard says, "and finally everything lined up" to do an edgier record. "The label was saying, 'Here's your chance. Everything's going a little heavier these days.' The best quote from the label in the middle of mixing was when Jeff [Moseley, INO's president] said, 'Hey, maybe the guitars need to be a little hotter.' And we said, 'Yes!'" [Laughs]
The result, Scheuchzer says, is "fun music. I think we've captured who MercyMe is live better on this record than we have in the past. It's a little more organic." He says being away and having nearly a month to focus solely on recording spurred their creativity.
Having had a respite from the road, they're eager to get to play the new material live. Scheuchzer says, "As men you feel like you're supposed to be doing something to support the family and be working, and, for us, our [touring] is that. So we're kind of itching to get back to work. We have the greatest job in the world."
"We're able to tour for the love of it," says Millard. Most artists depend on touring for income, seeing little money from CD sales. But MercyMe's record deal is different:  "We're more in a partnership. Our biggest risk was the first record ["Almost There"]. We paid for the budget, and they [INO] paid for the marketing." The album's wild success has allowed the band to cover future recordings and splurge a little on its shows.
"We're able to put more into [concert] production – video screens or whatever. We take great pride in putting on a great show," says Millard. "Our motto is, 'We ain't jumpin', so you might as well watch something else.'"
The members of MercyMe may love touring; but given the choice, there's nothing like the haven of home. Though they could be kickin' it in Christian music's mecca, Nashville, they've remained 600 miles to its west in Texas, staying focused on family and away from "The Biz." As we sit down, Scheuchzer quickly informs me that "every one of us would rather be at home playing with our kids" than doing a photo shoot – or an interview. Nice.
Have something to say about this article? Leave your comment via Facebook below!
advertise with us
Example: "Gen 1:1" "John 3" "Moses" "trust"
Advanced Search
Listen to Your Favorite Pastors