Mercy Me: Breathing Deeply
Beau Black, CCM Magazine
Tuesday, May 23, 2006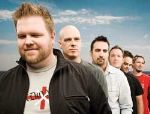 "It's cool the way God laid it all out. We'd decided this and visited a new church in Greenville, and the guy who taught Sunday school was talking about his experience in Kazakhstan." The man's whole family had served in missions there and invited the Scheuchzers over to share their experiences. "We were kicking ourselves, like, 'Can you believe this?' We're really excited about how God brought it all together."
After they decided on Kazakhstan, Scheuchzer says, "We found out it was the most expensive place to adopt from. I would have thought that would have made me more nervous, but it seemed to confirm it for me and gave me a peace knowing that God's going to make it happen in His timing. God adopts us; it's a beautiful picture," he says, of being "able to rescue someone from a bad situation – especially a child."
Texans "R" Us
Small-town living has helped keep the members of the band close. Greenville is an hour from Dallas, and there's not a lot to do in the town of 20,000. Millard plays golf – and the guys are all semi-rabid baseball fans. They've even worked out a deal to do some charity shows in exchange for a suite at the Texas Rangers' home in Arlington.
Bryson, for his part, sucked the band into his interest in NASCAR:  "I'm a fan, some say 'stalker.'" He collects memorabilia, and he also admits to sneaking into the pit for a race.
When quizzed on the appeal of watching cars go around and around over and over again, Bryson says, animatedly, "Everyone says that until they go to one. But when they come by at that speed, and you hear the rumble ... and they play the National Anthem and a fighter jet squadron goes ove r... it's not like a ballgame."
OK.
"We're kind of NASCAR fans by default. Five of us hated it until Jim drug us into it," Millard laughs. He says they became fans after they performed at a chapel service "to make Jim's dream come true.  We razz Jim more than anyone on the planet," says Millard, "but, fortunately, he can take it. Keyboard players have to be made fun of.
 
"We're like brothers," Millard continues. "By the end of every tour, we get sick of each other, but I can't imagine doing this with anyone else. I've heard stories about other bands that just kind of work together and aren't really close. We're incredibly close. We've done this for nearly 12 years."
He rattles off the band's members like he's talking about family: "Barry [Graul, guitarist] and Mike I see almost every day. Jim [Bryson, keyboardist] lives out in the country – Little House on the Prairie. Robby [Shaffer, drummer] lives in Dallas, and I talk to him on the phone every day. Nathan [Cochran, bassist] kinda goes off and does the family thing.
"Someone asked me the other day when I had 'alone time,'" recalls Millard. "And I said, 'Alone time'? The way my wife sees it, when I go to New York for a meeting, that's my free day. There's no day off, and I'm not bitter about it. On a day like today, when we're working, to my wife, that's a free day. She's like, 'Enjoy it.' [Laughs] When you're gone as much as we are ... when I'm at home, I'm with family. Steven Curtis [Chapman] calls it 're-entry' when you get off the road and get back into the system, back into the schedule."
Even off the road, he has plenty to do. Aside from Simple Records, Millard is planning a second solo album of roots/Americana-flavored hymns to follow "Hymned No. 1." Plus there's that golf score to work on.
Have something to say about this article? Leave your comment via Facebook below!
advertise with us
Example: "Gen 1:1" "John 3" "Moses" "trust"
Advanced Search
Listen to Your Favorite Pastors