Meredith Andrews: You're Not Alone
Amy Fogleman, CMCentral.com
Wednesday, July 16, 2008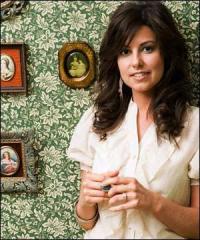 To North Carolina native Meredith Andrews, God's providence is everywhere in her life, and you just can't miss it.
Meredith, a new recording artist on Word Records, recently released her debut album, The Invitation. As someone who wasn't looking for a record deal but claims it just landed in her lap, she doesn't for a second doubt that it's where she's meant to be. Recording and songwriting are not the only roles set before her to fill. As a newlywed, a worship leader, a sister and a daughter, Meredith seeks to make room at the table for more. In her steadfast search for the heart of God, she asks, not just for herself, but for everyone around her "that we would love like Jesus loves, whether it be [loving] husbands, wives and children or neighbors, friends and even enemies."
Beginning her new marriage to husband Jacob and embarking on her own familial journey, Meredith's idea of family growing up was never conventional. Many people struggle to love their own flesh and blood, much less choosing to love someone who wasn't born into their family. It's always been Meredith's desire for more, and she didn't hesitate to ask at an early age.
"When I was eight, I remember, Mom and I were talking one day," Meredith explains. "We were in my room, and I was like, 'Mom, how come all my friends have brothers and sisters and I don't? That's not fun; how can we change that?' And I actually said to her, 'I'm praying for a baby to appear in your tummy.'"
It wasn't long after Meredith's innocent request that her parents investigated adoption and were ready to move down the road toward adopting internationally. With all the research completed—comparing costs, timetables and countries—Meredith was certain she was ready to receive a baby sister from China. However, her parents found themselves in conversation with their pastor and his wife, who, at the time were foster parents. For the time being, the Andrews' international adoption plans were intercepted, and they first became foster parents.
"When my parents came home, they told me we were going to have a little girl come live with us that next week and that she was almost two and her name was Nicki. I just flipped out! I was doing cartwheels all around this itty-bitty room. I was so excited, and that's how it all started. I was still eight, in the second grade; and I took Nicki to show and tell."
Foster care can be a tougher means of providing a stable home life due to the impermanency. Foster children are placed in fitting homes temporarily with the goal that, despite the hard circumstances they may be facing with their birth parents, they will either be reunited with their parents or placed in a permanent home situation.
Meredith acknowledges, "Foster care and adoption is definitely something God gave us a calling to and a heart for, and I watched my parents and how they loved these kids like they were their own. It was the hardest thing in the world to give them up."
Admittedly, many of us shy away from relationships, especially when we know they are temporary. What makes it even harder is to choose to love someone well, particularly children in broken situations, who need to be loved deeply despite the small amount of time you may have. "We had 20 kids come through our home. Some of them were in a situation to where they couldn't be adopted. I just know my parents were so intentional about showing them the love of Jesus, trying to instill the truth of God in them and making it clear that He was real and that He loved them, no matter how young they were or how long they stayed with us. It was hard seeing these kids go.
Have something to say about this article? Leave your comment via Facebook below!
advertise with us
Example: "Gen 1:1" "John 3" "Moses" "trust"
Advanced Search
Listen to Your Favorite Pastors