Michael W. Smith and Leeland Mooring: Eye 2 Eye
Jay Swartzendruber, CCM Magazine
Tuesday, January 16, 2007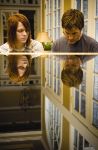 "When I left The W," continues Smith, "I got Terry [Hemmings, president and CEO of Provident] and said, 'I want a copy of their music.' I got a CD of seven songs the next day and just put it on non-stop. I couldn't believe how good it was. So that was when I went to [producer] Matt Bronleewe going, 'Hey, you worked on the Leeland record. I got a wild idea: What if we brought Leeland Mooring in and I co-wrote with him?"
Then Smith put in a call to Baytown, Texas.
Place in This World
"So I picked up the phone," recounts Mooring, who's now 18, "and he said, 'Is this Leeland?' I said, 'Yeah.' He goes, 'This is Michael W. Smith.' And I dropped the phone! I opened the door and told my mom [whispering], 'This is Michael W. Smith! This is Michael W. Smith!' like flipping out. So she's quietly freaking out. After I got off the phone with him, and he wanted me to come write with him, I flipped. I started screaming like a little kid. I was like, 'I'm going to write with Michael W. Smith!' I was running around the whole house."
Giving Smith a glance, Mooring says, "That night you came to our concert, my mom was saying, 'There is a reason he came to that. God had him come for a reason. You mark my words.' We're all kind of laughing at her. We're just like, 'Whatever, Mom. He came. Don't want to make too big a deal of it.' But she kept saying, 'You mark my words.'
 
"It's funny because I remember even a few years ago, when I was 14, she told me, 'Leeland, one day you're going to get to write with Michael W. Smith. I really believe that.'
"There is something about a praying mother that always has kind of a discerning spirit about stuff," he opines. "My mom is constantly praying about God's will for our lives and our ministry. We believe in divine appointments and divine connections – people that are put in your life because God's put them there."
The Moorings aren't the only ones who believe in divine appointments.
Old Enough to Know
"My eyes are peeled for the supernatural," reveals Smith. "I'm open. I'm always looking for 'God, what do You want to do? What am I supposed to be about?' And then, 'Who am I supposed to be involved with?'
"Who am I to try to protect my turf? I'm so past the whole trying to be a star, trying to make a name for myself ... I feel like the spirit of Christ lives inside of me, so I've got a fairly good thing of discernment. I just kind of sense things. I feel like his mom did. When I first heard Leeland, I thought, 'I'm going to end up working with this band on some level.' I just knew it in my heart. And, then, to see when I fell in love with his mom and dad and the whole band. Then, my kids – we see them all together – I mean, it's wild. And they just all love each other. Everything has just been mind-boggling really."
Hearing all this, one can't help but wonder if this unusual connection is unprecedented in Smith's life. What about all the younger artists he's bonded with and encouraged over the years – especially at his own record label, Rocketown? Is there a comparable friendship with another singer/songwriter in his history?
"I don't think so," says Smith. He affirms his love and respect for Chris Rice, Ginny Owens, The Turning and The Swift before stating, "For some reason there is some sort of heart connection – spirit connection – with [Leeland Mooring and myself]. I can't explain it. It's just the strangest and most wonderful thing really.
Have something to say about this article? Leave your comment via Facebook below!
advertise with us
Example: "Gen 1:1" "John 3" "Moses" "trust"
Advanced Search
Listen to Your Favorite Pastors