Michael W. Smith: Going Global
Andrew Greer, ChristianMusicPlanet.com
Tuesday, November 11, 2008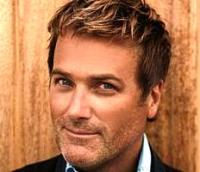 Since Michael W. Smith released his first live worship record in 2001, the 25-year veteran has released a Gold-selling sequel, Worship Again (Reunion), a couple pop records, a greatest hits and a Christmas collection and garnered a few Platinum certifications, a handful of Dove Awards and a GRAMMY.
But none of these projects or accolades compare to Smith's recent experiences overseas. From Asia to Africa, Smith has trotted the globe to witness firsthand the plights of the impoverished, affording him a fresh perspective on worship and granting him the inspiration for A New Hallelujah, an epic musical experience recorded before 12,000 worshippers at Houston's Lakewood Church earlier this year.
During a day off from the "United Tour" with Steven Curtis Chapman, Michael discusses the preparation (and vision) for A New Hallelujah, its international influence and how worship is more than just music.
CMP: A New Hallelujah is your first worship-specific record since 2002's Worship Again. What inspired you to record another worship album versus a new studio record?
Michael W. Smith: It was my intent to do a pop record, but it ended up coming down to the kinds of songs I was writing. I think I began to search my heart, and it felt more corporate. I thought, "We need to do this thing live."
I still struggle calling these records "worship" records because I have a different interpretation of what worship is, in that I think it's a lifestyle. Worship should be everything that we are and everything that we're involved in—the people we run into, hanging out with your kids—it's all an act of worship to me.
CMP: Worship music is generally tagged as "vertical music." Can worship music also be "horizontal," encouraging us to reach out and take action?
Michael: I think we need just as many songs that do the horizontal thing. In my opinion, we can worship until we're blue in the face, but if we're not feeding the poor, taking care of the orphans and looking after the downtrodden, then I think we've totally missed it.
We started getting big mega-churches, and we have great styles of worship; and then we leave the parking lot and see the homeless man, and nobody stops. We've got to get it together and get back to what's really important and what resonates with the heart of God. We can sing songs, but we've got to be hands and feet as well. … Didn't mean to preach a sermon. [Laughs]
CMP: We know about your involvement with the ONE campaign, Compassion International and your close friendship with the President. How have these relationships shaped your worldview and the themes on this record?
Michael: I began to realize [that] I can make a difference. We all have a voice. We can all stand up for what we feel like is important—what can change the world.
You mentioned the ONE campaign and my involvement with Bono. I end up talking to the President, and we got this 15 billion dollar bill passed to allow this anti-viral drug into these AIDS-stricken nations, especially Africa. And it's working.
It's up to us. There's no Plan B. There's no Plan B. It's time to make a difference.
Look at the African Children's Choir [featured on the record]. Although they are in the choir, they represent the poorest of the poor. These kids are all orphans. They [brought] a lot of joy to [that] night.
CMP: Speaking of the African Children's Choir, A New Hallelujah definitely has a global emphasis.
Have something to say about this article? Leave your comment via Facebook below!
advertise with us
Example: "Gen 1:1" "John 3" "Moses" "trust"
Advanced Search
Listen to Your Favorite Pastors