Michael W. Smith: Going Global
Andrew Greer, ChristianMusicPlanet.com
Tuesday, November 11, 2008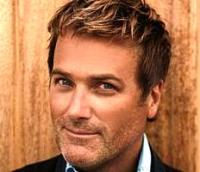 Michael: I was very inspired by my time overseas. Stuff that was going on in Brazil, South Africa and Kenya was amazing. It was an incredible time of worship. So that's probably why it has a bit of an international flair. It is definitely different than the other two [worship] records.
CMP: Tell me more about preparing for the night [of the recording] and the night itself.
Michael: There was a lot to think about. You've got the African Children's Choir. You've got the technical stuff. We're doing a DVD [releasing Spring 2009]. Pulling the songs together, trying to get the arrangements right; and everybody's working on lights and all this stuff.
I wanted to get prepared and then let all that go and not have to think about any of that on the night [of the recording]. I wanted this to have so much authenticity. We weren't trying to whip anybody into crazy emotions or have some sort of pep rally. [We just wanted to] let it be authentic and real.
I think it connected. And when people respond, all of a sudden you're in the middle of a big experience, a God experience. I believe people were touched that night, and it translated to the CD. And I think we probably have a good chance, by the grace of God, for this record to connect with people all around the world.
CMP: Share the story behind the record's closing track, "A River Is Rising."
Michael: We had rehearsed all week, and we were recording on Friday night. Thursday morning, I woke up in my hotel room, and I felt this kick [drum] going on in my head. I started writing this song lying in bed. I guess I was just excited.
I showed up an hour and a half later to rehearsal and looked at the band and said, "Guys, I've got a wild idea." As soon as I say that, they all run. [Laughs] But then we started playing this song, and 36 hours later, it's on the record. It was crazy.
CMP: With the wealth of great worship songs in the market, how do you select songs for a worship recording, and how do you prepare yourself to contribute songs to the collection?
Michael: On the songs that were familiar I just tried to pick great songs. We made Chris Tomlin's "Amazing Grace (My Chains Are Gone)" really big. When you have 12,000 people in the house, it's just going to feel big. Another great song is "Mighty to Save." I've been leading it for two years in my church, and it works every time.
In terms of contributions, I just started writing love songs for God. "Deep in Love with You" is probably one of my favorite songs on the record because it was so heartfelt. I started a journal and discovered I was writing lyrics and having ideas that I've never had before.
I think there are more mediocre songs out there than great songs when it comes to worship music. That's just my opinion. I wanted to throw my songs up there against all these other songs I could've picked because I wanted to raise the bar.
CMP: With all the passion and energy that goes into preparing a worship night of this magnitude, how do you also encourage 12,000 people to move beyond the church walls and take action? If that's even a fair question.
Michael: Yeah it is.
I still meet so many people who struggle with self-worth. They struggle with "Does God really love me?" and "Maybe if I do all the right things, God will love me more." There are all kinds of reasons for that—bad father figures, moms checking out and bad theology—and the Gospel called "Grace" has not been preached.
God doesn't just love us, but He actually likes us. He's so very fond of us; that just floors people. So many have based their life on performance instead of response.
Have something to say about this article? Leave your comment via Facebook below!
advertise with us
Example: "Gen 1:1" "John 3" "Moses" "trust"
Advanced Search
Listen to Your Favorite Pastors