Michael W. Smith Recalls 20 Memorable Moments from 20 Years
Michael W. Smith, Contributing Guest Writer
Monday, October 27, 2003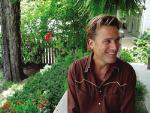 In the beginning
I really can't reflect on 20 years without first thinking of the early days with Amy. I was given the opportunity to play in her band and open for her even before my first record was out. The first night I stepped out with her in front of a few thousand people impacted me in ways I probably didn't fully understand at the time.

Youth Night at the Billy Graham Crusade in Cleveland
Over the years, Billy and Ruth Graham have been incredibly encouraging to [my wife] Debbie and me. But the most powerful night I ever spent with him was in 1994. Despite misgivings from some members of his staff, he invited me and dc talk to perform for a special youth night. It was the first time contemporary music had ever been performed and endorsed by one of his crusades. Over 50,000 kids showed up; and when he offered the invitation for people to come forward and accept Christ, 10,000 just poured out of the stands. I looked at Toby [McKeehan], we both began to cry, and I couldn't quit. It was one of those times that left me and my band speechless.

Writing "Friends" with Debbie
I have no idea how many times I've sung "Friends." When we wrote it for a friend who was moving away from Nashville to become a campus minister, Debbie and I never dreamed it would touch so many lives. Twenty years later, I still get letters on how it is being used at graduations, funerals and camps.

Collaborating with Ryan
My oldest son, Ryan, has a great ear for music. For example, he introduced me to Jars of Clay's music before it really took off. What a hoot it was to co-write the song "Signs" with him that is on my "Second Decade" (Reunion) album! And because he's got a real passion for filmmaking, he took on the assignment of directing the music video for the song. So, stay tuned.

The video that almost didn't get made
In 1988 the producers of the "Fire by Night" TV show asked me two or three times to come out to Tulsa and make a music video of "Secret Ambition," but I kept turning them down. Their production budget was only $2,000, and I couldn't imagine that anything good could be created for so little money. But thankfully, they were persistent. I finally agreed to do it, and I kicked in some money myself so they could shoot it on film instead of video. Scenes from "The Great Passion Play" in Eureka Springs, Ark., were woven in with my scenes shot way out in western Oklahoma. By the end of our shooting day, I knew something special had happened, but I had no idea of its future impact. To this day, people tell me they accepted Christ after seeing the video.

A pop song with bagpipes?
Performing at the memorial service following the tragedy at Columbine High School in Colorado remains one of the most sobering experiences of my life. After that day, I knew I had to do something. That "something" became the song "This Is Your Time" that I co-wrote with Wes King. I recorded it and sent a copy to Cassie Bernall's family to get their blessing, but I felt that the ending just wasn't right. At 3:00 one morning, I woke up and, in my head, heard the song being played with bagpipes. I called Cassie's mom later that morning to tell her I wanted to re-record the ending with bagpipes. There was silence on the other end of the phone, and I thought I'd offended her or lost the connection. Then, with obvious emotion, she told me that bagpipes were Cassie's favorite instrument. Enough said.

Rocketown becomes a reality
For four years, I had been trying to launch a youth outreach in the form of a teen club called Rocketown. Many times I had been told why it wouldn't work. On April 29, 1994, we opened the doors to a former warehouse in a business park on a dead-end street in Franklin, Tennessee. With no real advertising, 700 kids crowded into the building. While the theme from the movie 2001: A Space Odyssey blasted through the place, I surveyed the sea of young faces eager to find out what this place was about. I sat on the floor of the sound booth and cried.

Have something to say about this article? Leave your comment via Facebook below!
advertise with us
Example: "Gen 1:1" "John 3" "Moses" "trust"
Advanced Search
Listen to Your Favorite Pastors