Michael W. Smith Recalls 20 Memorable Moments from 20 Years
Michael W. Smith, Contributing Guest Writer
Monday, October 27, 2003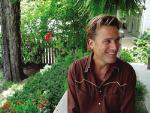 And so does the other Rocketown
I'd known for a long time that I wanted to start a record company someday. That dream became a series of serious conversations with Don Donahue, who was working at Reunion Records. One day we were on the farm talking about it for the umpteenth time, and I finally said, "Let's do it." Not long after that Don played me Chris Rice's "Welcome to Our World," which blew me away. I figured that anyone who could write something that good probably had a lot more great songs in store. He did — and does. Based on the strength of his music, the songwriter-centered record company was started.

Creative "Freedom"
Although I'm happy with a lot of the albums I've recorded, my absolute favorite is the instrumental album, "Freedom" (Reunion). The music I write tends to have a symphonic nature, so it was incredible to bring to life the arrangements I had heard in my head. It was an amazing experience to record most of the album with the Irish Film Orchestra at Windmill Lane Studios in Dublin, where U2 did some of its early work.

Friends Really Are Friends Forever
Looking back on the first tour I headlined in 1985 with Kathy Troccoli and Billy Sprague brings back great memories. My band was Wayne Kirkpatrick, Chris Rodriguez, Chris and Jan Harris, David Huff and Mark Heimermann. Every member of that band has gone on to have an incredible individual impact on Christian music as writers, producers, studio musicians and performers. Those early days were rich, and it was a blast to be a part of it.

Holy Land
A few years ago, Debbie and I traveled to the Holy Land with a tour group led by her stepfather, Murray Severance. The most striking moment was walking through the East Gate in Jerusalem. It's the only time I remember laughing and crying at the same time. The instrumental "Hope of Israel" on my Christmastime album was inspired by that experience.

The Best of Times, the Worst of Times
When "Place in This World" was picked up by pop radio stations, I was tossed from the cocoon of Christian music into the mainstream, where audiences could be pretty brutal. One night I performed solo in front of 7,000 rowdy people at what is called a "star party," hosted by a pop/rock station. I opened with "Emily," and I could tell I was not winning them over. When I tried to pick up the pace with "Love Crusade," people began throwing things on stage, and a can actually slammed against my shoulder. I was furious but finished the song and moved on. When I finally started "Place in This World," they recognized it and, finally, I got a reasonably positive response. But by then I was just desperate to get off the stage. I bowed quickly and stormed backstage. Eventually I cooled off and walked to where I could survey the crowd. It was like God was saying, "I gave you a heart for the lost — well, here they are." It was a sobering and painful moment that deepened my commitment to touch lives.

A "Place" at the American Music Awards
Thanks to the undying enthusiasm of Claire West (in Geffen Records' radio promotions department) for "Place in This World," the song reached No. 1 on the pop charts; and, at the 1990 American Music Awards, I received the surprise of my life. When Alan Jackson and Queen Latifah read my name for "New Pop Artist of the Year," it was a very surreal moment. What I love about the American Music Awards is that they are voted on by the public. Just thinking back on that night really humbles me.

Mr. Smith Goes to Washington
My first real contact with the Bush family was in 1989 when I was asked to perform on NBC's "Christmas in Washington" special. After the performance the President asked some of us to come over to the White House. As we passed a piano, President Bush asked me if I'd like to play something. Without thinking, I blurted out, "Is it in tune?" He responded, "Well, I hope so!" And our friendship began. I'll never forget: I was playing Christmas carols ... in the White House ... for the First Family ... with Olivia Newton-John ... and the whole time I'm thinking, "How did I get from Kenova, W.V., to here?"

Have something to say about this article? Leave your comment via Facebook below!
advertise with us
Example: "Gen 1:1" "John 3" "Moses" "trust"
Advanced Search
Listen to Your Favorite Pastors