Michael W. Smith Recalls 20 Memorable Moments from 20 Years
Michael W. Smith, Contributing Guest Writer
Monday, October 27, 2003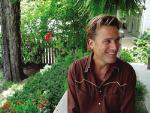 A few months later I found myself on the tennis court in a heated match with the President and his son "W." I spent more time with the younger George when I performed at his brother Jeb's inauguration as Governor of Florida. One of the biggest honors of my career came when George W. Bush asked me to perform at the prayer service honoring his own inauguration. It was the first time I ever played the song "Above All." I was nervous, of course, and I think that I actually sang a few wrong words but I kept playing anyway. I appreciate so much what the Bush family has meant to our country.

No One in the Spotlight
Several years ago we took worship in a new direction on the first night of Gospel Music Week. We gathered a bunch of artists but agreed it should not be self-serving in any way — no new songs were introduced and no one got a step-out or a solo. We all just gathered together to worship. I think that event set the mood for the entire week and has had a great impact on our industry as a whole. I think it was one of the most meaningful events I've ever attended at GM Week.

Spiritual Warfare … On the road
Probably the hardest and most rewarding tour I have been a part of was the "I'll Lead You Home" tour. We had mounted this huge production, and it seemed like there were problems at every turn. I completely lost my voice and, for the first time ever, had to cancel shows. The Jars [of Clay] boys were opening, and one of them had to have an emergency appendectomy. One of the crew guys was hit with severe food poisoning … and on and on and on. It was hard to understand at the time what was happening. Looking back, I truly believe it was a spiritual thing. It was warfare. We ended the evening every night with some clips from Billy Graham — and I know that we were making a difference out there.

The Bono Connection
Bono, of U2 fame, has been reaching out to the Christian community to enlist support of the organization D.A.T.A. (Debt, AIDS, Trade for Africa). My first contact was when Bono was in Nashville for some meetings. We spent a good bit of time together and began a friendship. And while my family was in Dublin this past summer, I called him, and he invited all of us over for lunch. He brought out a boom box and played four new songs that probably even his record company hadn't heard yet. What a thrill for my kids! His hospitality was over the top.

Ego Check
We had the incredible privilege of having the pastor of Belmont Church, Don Finto, join us on the road several times over the years. I remember standing backstage waiting for an encore at a concert on Oct. 31, 1986, in Seattle. A group of girls could see me from the balcony and began screaming, "We love you, Michael!" Just as I was starting to swell with pride, I felt Don's big, loving hand on my shoulder. He leaned toward me and said, "It's not you. It's not you. Give it up. Give it up." Don has had an incredible impact on my life, and I wouldn't be where I am today if it weren't for him.

Worship... for the record
Recording the first "Worship" record was one of the most amazing experiences of my life. We chartered four or five planes and took 20 or so artists to Lakeland, Fla., to sing on the record. We rehearsed during the day, and the time together was so great. When we all got together to pray before going onstage, the Spirit moved in a way that we lost all track of time. We wound up starting the concert/recording really late. I can't really explain what the recording was like — and the time together with the other artists after the concert — other than to say, "God showed up." It was really an amazing night, and I am still so grateful to everybody that showed up to be a part of that night.

Gavi's Graduation
In 1988, our family "adopted" a young girl in Ecuador through the child sponsorship organization Compassion International. We have always exchanged letters and photographs over the years, and I've been able to visit her several times while on Compassion trips. The culmination of this 16-year relationship was the honor I had to hand Gavi her high school diploma and reflect on how God had transformed a little girl from a poverty-stricken family into a beautiful young woman. It reminds me of the promise given in the book of Jeremiah that He has given us all "a hope and a future."
Note:  Through the promotion of Compassion International during Michael's concerts, more than 22,000 children have been sponsored.

Copyright © 2003 CCM Magazine.  Used by permission.  All rights reserved.  Click here to subscribe.

Have something to say about this article? Leave your comment via Facebook below!
advertise with us
Example: "Gen 1:1" "John 3" "Moses" "trust"
Advanced Search
Listen to Your Favorite Pastors