New Artist Spotlight: Julian Drive
Brandon Heath, CCMmagazine.com
Monday, January 26, 2009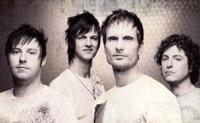 This month, reigning "New Artist of the Year" Brandon Heath interviews new InPop band Julian Drive …
"After what I've already heard from Julian Drive, I'm sure we'll be hearing more. It was great to talk with the guys, and I'm excited to see what's next for them."
—B.H.
Brandon Heath: Hey everybody, Brandon Heath on the phone in snowy Seattle. I am talking to my new friend Shane, from the band Julian Drive. How are you doing, Shane?
Shane Bowers (lead singer, Julian Drive): I'm good, how are you doing, Brandon?
Brandon: I'm good, just hoping I don't get stranded here in Seattle. Snow can be a little challenging when it comes to travel.
Shane: I agree. Well, it is 70 degrees where I am.
Brandon: I don't even want to hear it! Are you down in your hometown, Georgia?

Shane: Yes, Athens, Ga., is home to us, and it is unseasonably warm. It's cloudy but warm.
Brandon: Yes, 70 degrees is short-sleeve weather!
Shane: Absolutely!
Brandon: Well, man, how was your Christmas? What was your favorite gift?
Shane: I'm not a big gift person. I don't mind getting, and I love giving; but the thing I enjoyed most was spending time with family. Because we travel so much, I don't get to see my folks as much. That was the best gift, spending time with my family, my wife and everybody.
Brandon: So you are married?
Shane: I am indeed.
Brandon: Do you have kids?
Shane: We have two.
Brandon: Wow, that must make your holidays busy! Well, tell me about Julian Drive.
Shane: I can tell you that we have three married guys, and one unmarried guy. We are from Athens, Ga., and we started out leading worship in church. Most of the guys were in the youth group, and I was helping out with that with my brother-in-law, the pastor there, and things just started happening. Then we started taking it more seriously. We [were] on a show on TBN in 2004 and got a lot of exposure. We went full-time a few years ago, and God continued opening doors, including signing to Inpop Records recently.
Brandon: That's great! You have been together for 10 years, and you only recently signed this record deal?
Shane: We have been plugging away with a grassroots ministry—church to church, that kind of thing—one fan at a time. Hopefully, by God's grace, changing one life at a time. That's been our focus and goal from the beginning and still is now.
Brandon: You have Shawn and Jesse and James?
Shane: That's correct.
Brandon: Be sure to tell them I said hello!
Shane: I will.
Brandon: You guys put out your first single this year. Tell us about that.
Shane: It's called "From Your Hands," and we are really excited about it. This song, in every way, shows the make-up of Julian Drive. We have a lot of musical backgrounds. You can see a hint of all of them, whether its rock 'n' roll or a shade of country, if you look close—or lots of pop. It's just a blend. It's a straightforward song about the love that Christ showed for us when He shed [His] blood for us. We wrote it when our bus broke down on the side of the road. Jesse [guitarist] and I, we just sat down and wrote it.
Brandon: Wow, that's making good use of down time!
Shane: Yeah, we never expected it to be what it has proven to be, but it's my favorite song on the record. It's the closest thing to what I really like. Hopefully, more than that, the message in there will impact somebody. We get e-mails about how it's connecting with [people's] lives, that some song we have written has touched their hearts.
Have something to say about this article? Leave your comment via Facebook below!
advertise with us
Example: "Gen 1:1" "John 3" "Moses" "trust"
Advanced Search
Listen to Your Favorite Pastors