New Artist Spotlight: Kari Jobe
Brandon Heath, CCMmagazine.com
Thursday, July 02, 2009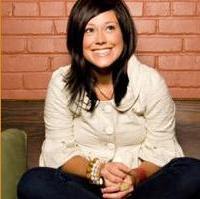 Brandon Heath interviews new Integrity recording artist Kari Jobe in the final installment of his "New Artist Spotlight."
This is my last "New Artist's Spotlight"; I don't get to carry the title of GMA "New Artist of the Year" anymore. Now I get to pass on the title to my boys in Tenth Avenue North (2009 GMA "New Artist of the Year"). Stay tuned for their upcoming interviews!
As a parting gift, I put in a special interview request for Kari Jobe to get to know her better. I first heard about Kari from my old friend Ed Cash, her producer on her debut record. It's great to see new talent in the worship realm—especially from such a godly woman.
– B.H.
Brandon Heath: Hey Kari, Brandon Heath here. Excited to talk to you!
Kari Jobe: Hi, everybody!
Brandon: Well, where are you today, Kari?
Kari: I'm at home in Dallas. I was actually born in Waco, but three weeks after I was born, my parents moved back to Dallas.
Brandon: So you were in residence for three weeks in Waco. That doesn't really count.
Kari: I know!
Brandon: Did you know that I lived in Texas for a couple years? I lived in Houston. So I have much admiration for you as a Texan. What was it like growing up there? What were you into growing up?
Kari: My family was in ministry, so I grew up at church, falling asleep on the pews because we were there 'til the break of dawn. And by the time I settled down in my teenage years, I started leading worship at my church. I've always been into music and loved it. I also loved people and ministry. Growing up in that environment, you either love it or hate it—I loved it. I played volleyball in high school as well.
Brandon: Did you wear the kneepads and elbow pads? I've seen girls play volleyball, and it's pretty intense. What was your signature move?
Kari: I was more on the back row. I was the defensive specialist, because I'm short and could get real low and get the ball back in the air.
Brandon: Who were your first musical influences?
Kari: I listened to a lot of Michelle and Barry Patterson. They were local artists in Dallas—very cool people. And then of course, Darlene Zschech. When I was about 13, "Shout to the Lord" was a big deal; and when I was little, 10 or so, I listened to Dennis Jernigan.
Brandon: Dennis Jernigan … I need to check him out. What's his style—acoustic?
Kari: He played the piano. He did a lot of prophetic worship, singing over people, which is interesting because I love that kind of worship now. I love to write stuff that will minister over people.
Brandon: Do you feel that you've been given that [prophetic] gift and sensitivity?
Kari: I do, especially over the last couple months. My pastor prophesied over me before my CD release. He just said, "I feel like the Lord is saying the time is now, and He's opening your voice, your mouth, to share what He wants you to share." And I'll be in the middle of leading worship and feel like the Lord is giving me wisdom that the congregation needs to hear. I'll share it, and people will start weeping. It's just been really cool to watch [the results of] being sensitive to His voice in the middle of worship.
Have something to say about this article? Leave your comment via Facebook below!
advertise with us
Example: "Gen 1:1" "John 3" "Moses" "trust"
Advanced Search
Listen to Your Favorite Pastors