New Artist Spotlight: Kari Jobe
Brandon Heath, CCMmagazine.com
Thursday, July 02, 2009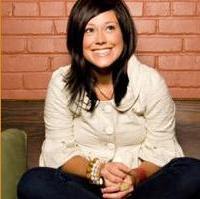 Brandon: I guess that with prophecy comes authority, because you have the responsibility to share it. And it also comes with discernment. When is the right time [to share]? You can't just blurt out everything—there's timing—and [it depends on] a trust that you have to earn with people.
Kari: It helps me being a worship pastor at my church, Gateway, and not having just the title—because God's not about titles—but more of a mantle of leadership and getting to go out and minister in other churches. [Because people know] I'm a worship pastor, I have a trust that I have been put [in that position] by my pastor. I love that people trust me in that way.
Brandon: Being at Gateway, you certainly have that mantle. And now your mantle and platform have gotten much bigger. Talk about that. Who did you sign with?
Kari: Integrity. I'm with Gateway as well, which is my church's label. It's really cool for me being a worship leader more than just an artist. In the last year, it's gotten a bit crazy, really exciting. God is opening doors, and I am just buckling my seatbelt for the journey ahead. People are responding in a way that I wasn't expecting—hoping for, but not expecting. [I wasn't sure] if they would see it as, "Oh, this is pretty music," or if they would respond with, "I'm using it to minister to my family," or "My mom's in the hospital, and we have been able to pray in the hospital." We're getting some pretty cool stories that it's being used for ministry. And I love that.
It's more about the lyrics than the music. [The lyrics] came from those moments in my life when I had to cry out to God and live life surrendered to the Lord. We're able to write these songs that are like, "Oh my goodness, what are You doing? Why are You making me walk through this?"
Brandon: When I first heard about you, Kari, it was through my friend Ed Cash. I asked him what he was excited about working on, and he said, "I'm working with this girl Kari Jobe." I happened to meet you the next week. What was it like working with Ed?
Kari: Amazing. I call him Pastor Cash. He's such a pastor. He has such a heart for you as a person. You are making music, but he's like, "What is God calling you to? How did you get here?" He's just awesome. It was a phenomenal experience. I couldn't have asked for a better producer. I didn't really know what I needed my CD to sound like, but I knew what was in my heart and was able to say to him, "I want to do worship, and I want to connect with people." I tried to explain what I was hearing in my mind, and he took it and ran with it and was able to totally interpret what I was trying to say. He's an amazing artist himself.
Brandon: There are so many new artists coming out who are encouraging to me. It seems like the scope of our industry is changing. God never rests and never stops calling people to do His work. Who are some people that you are excited about in Christian music these days?
Kari: Well, there's this one guy named Brandon Heath. …
Brandon: Besides me!
Kari: As a girl, I'm real emotional. I love music that moves me. I love Brooke Fraser. I can't even explain it. I'm loving Worth Dying For. They're newer; Integrity is releasing some of their stuff. I got to meet them this year. They love to call themselves not a band but a movement, and they want to start a movement with teenagers. I love what they're about. They're out of California, and they are [a group] to be watching out for, with phenomenal songwriting abilities and amazing vocals.
Have something to say about this article? Leave your comment via Facebook below!
advertise with us
Example: "Gen 1:1" "John 3" "Moses" "trust"
Advanced Search
Listen to Your Favorite Pastors