New Artist Spotlight: Kari Jobe
Brandon Heath, CCMmagazine.com
Thursday, July 02, 2009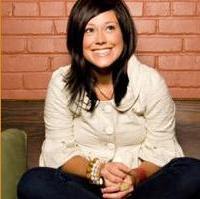 Brandon: I'm with you on the girl front. As far as Brooke Fraser goes, so many of us in Nashville love her songwriting. Her voice is amazing and so fresh. It's encouraging to me to see so many female vocalists like you and Francesca [Battistelli] coming on the scene and making an impact. … It's encouraging to see new people and new faces helping us advance to new audiences.
Kari, when you write, how much do you think of the non-believer?
Kari: I love to write songs that will help people who are broken, [going through] those times in our lives where we are walking and are weary; or we're broken and we're like, "God, I need You to rescue me from this and help me walk through this. Help me hear Your voice and follow what You're saying." And because I feel like I'm always walking through that myself, my songs take that on, and unbelievers can absolutely connect with that, because if they're being honest, then that's where they are in life. They're like, "I am broken; I don't know what to do." If [my music] can connect with people, and bring life and hope and healing, then that touches my heart
I was leading worship the other night, and the presence of the Lord was there so strongly; it was one of the strongest [times] I have ever felt it. And I was truly standing on the stage saying, "Lord, I don't know where You want me to go." I started sharing what I thought He wanted me to share from Psalm 118, about how the Lord draws us out of deep waters and will bring us to a place where He can minister to us and give us the strength to overcome. And I felt like people were coming to the front, to the altar, just one by one, and feeling a connection with what I was saying. I could see it in their faces that they were coming forward because they wanted this God. It was amazing. It turned me upside down. I had never felt the Lord's presence so strongly.
Brandon: It was something you'll never forget.
Kari: Never. It made me want to be more on point with unbelievers while leading.
Brandon: I would say never underestimate how God will use you or your audience. Sometimes I think I just need to cater to who they are. And that's not true. As long as we are faithful to who God has called us to be, He does the work. He will astound us with who He brings to Himself. It's not like we accomplished anything; we've just been a part. I admit I forget that sometimes. I'm glad you reminded me that God can use us to draw people to Himself.
Kari, before we go, I'd love to talk about your first single, "I'm Singing." Tell us about that and your record.
Kari: I wrote that [song] with Ed Cash and Chris Tomlin. Ed had the chorus already, and so the three of us got together and finished the song. And the more I get to lead it in the congregational setting, I watch people connect with it in a way that's like, "Yeah, that is God! You are the only One. You are the only man who took the nails." Just watching people get a revelation of who God is has been pretty fun. Radio is picking it up, and honestly, I never saw that coming. Being a worship leader, I had no idea that God would open doors with radio, and that's been cool to watch. God has gone above and beyond.
Brandon: It takes a long time to break into radio. So it's either got to be a great song or a miracle! I bought "I'm Singing" on iTunes. Your record is also doing great; it's been in the Top 10 on iTunes. You should be proud of your first effort. You are doing a great job.
Have something to say about this article? Leave your comment via Facebook below!
advertise with us
Example: "Gen 1:1" "John 3" "Moses" "trust"
Advanced Search
Listen to Your Favorite Pastors