New Artist Spotlight: MIKESCHAIR
Brandon Heath, CCMmagazine.com
Monday, February 23, 2009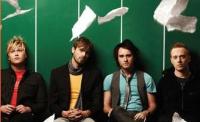 "Mike and the guys have been like brothers over the past few years. Through encouragement, a little waiting around and diligent writing they're ready for the world to know them too." — B.H.
Brandon Heath: Hey everybody, Brandon Heath here, calling Mike Grayson from one of my favorite bands in the whole world, MIKESCHAIR.
Mike Grayson (MIKESCHAIR): Wow, that was quite the introduction!
Brandon: We wanted to connect and see what is going on. What are you up to right now?
Mike: Right now, I'm sitting in my house, talking to you.
Brandon: We are clearly both enjoying some time off in Nashville. What have you been spending your time doing, Mike?
Mike: We are gearing up for the release of our first record, which involves lots of photo shoots and album stuff and MySpace stuff, and then getting together the live show, which has been a lot of fun. So it's a lot of preparation, which is cool.
Brandon: That's good, man. It's good to be ready. It's good to have your act together. OK, so the reason we are so comfortable on the phone is we have known each other for a long time. You are from Florida, and you moved to Nashville for Belmont University, right?
Mike: Yeah, Orlando, Florida, then moved to Nashville not really expecting to get in a band.
Brandon: But you met the guys in the band at Belmont?
Mike: It's a funny story. We met within two weeks of our freshman year. Everyone who has been to college knows about the first couple weeks, how weird that is; you're meeting all these people, and half the time you have a new crew of people. For some reason, the people I met in the first two weeks are my closest friends now.
Brandon: You guys have had many, many years to figure out personalities, and I know that when your band mates are about making music but also about being great friends, it takes a lot of trust.
Mike: Oh man, there is so much more than just writing and playing music. It has to do a lot with community.
Brandon: It could arguably be that the music is the fruit of being in the band. So you guys are finally ready to put the record out. Tell us about that.
Mike: Finally, yes, that's a good word! Brandon knows this has been quite the process. We have finally gotten to the place where we are just more than happy with where the band was and with the songs we have written for this record. We came alongside Jason Ingram and Rusty Varenkamp [Tenth Avenue North, Meredith Andrews], and it took a while to find the right guys for this record. We had very strong opinions and ideas for where we wanted it to go. We came to the table with a lot of songs. It was cool to sit down with Jason for the first time and really feel like he more than got it and was just excited about where we were going. We finished the record this last summer, and we are getting ready for a summer release.
Brandon: What is the first single?
Mike: It is called "Can't Take Away." It's the last song we had written. The record was done, and we sat down to write. This was around the time when gas was $4 a gallon; and for anyone in a band, that's just ... for a young band that was trying to get out on the road in front of people, we were wondering, "Are we going to be able to continue to do this?" We sat down to write this song, and it reminds us that when times are the way they are now, and things are constantly getting taken away from us, it's the fact that there is one thing that cannot be taken away, and that's our salvation. God is where He's always been, right on the throne, and hopefully it's an encouragement. All these things can be stripped away, and the only thing we really need is Jesus.
Have something to say about this article? Leave your comment via Facebook below!
advertise with us
Example: "Gen 1:1" "John 3" "Moses" "trust"
Advanced Search
Listen to Your Favorite Pastors