New Artist Spotlight: Revive
Brandon Heath, CCMmagazine.com
Thursday, May 28, 2009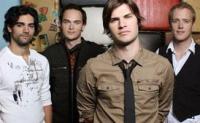 Dave: Well this is pretty embarrassing, but when it was just Tyler and myself, we were struggling for a name. We just called ourselves Me and Ty. Then we had Rich and Mike play, and then it was Me and Ty and Rich and Mike … and it was really terrible. So I remember e-mailing our fans, and we said we have to change our name, give us ideas. And we got some pretty hilarious ones. People would e-mail in and go, "How about Vertical Horizon?" And we were like, "That is a band." How 'bout U3? These terrible names. And it was between Fighting Goliath and Revive.
Brandon: I'm glad you went with Revive.
Dave: Yeah, it sounds like an '80s hair band … Fighting Goliath. And it came from Psalms 85: "He will revive their hearts." I believe that's what good music should do—secular or otherwise. Particularly Christian music, the music should be outstanding; the lyrics should follow it. Music that touches the soul just feels good. It's almost transcendent. Something about it that is hard to articulate; it just makes you feel good. It makes you feel close to the One who created that music, our Lord, the master of creativity, the author of all things creative. The same with Christian music; to match those beautiful melodies with great lyrics. That's what we are all about as a band, matching encouraging lyrics with a melody and music that will really move you. "He will revive our hearts." … That made sense to us.
Brandon: So four of you guys… You just put out your first record. Tell us about the new record, the title, the first single.
Dave: The first single is "Chorus of the Saints," the title of the record. It came out March 10.
Brandon: Yeah, I've heard it a few times. [Laughs]
Dave: That song is really autobiographical of our band. The beginning came from the Old Testament, and you read about the Israelites. You read that God delivered them from the Egyptians, parts the Red Sea in one of the most amazing miracles of all time and, three seconds later, while the Red Sea is still being moved around by God, they are saying, "We want to go back to Egypt. Why are we in this desert? You've abandoned us, Lord." As Christians, we look back and say, "Those guys are so silly. They are so untrusting and foolish." And the truth is, we aren't that different from them. And for our band, unfortunately, we are the same. We are human. And God has done amazing things in our lives. He's provided. Our prayer has always been, "This is your band, Lord, and we'll move forward if You open the doors of opportunity."… Not once has He proven Himself untrustworthy, so why should we stop trusting Him?
Brandon: As a band, you guys are now living in the U.S. You have your first national record out, under Essential Records, same label as me. I'm on Reunion, but we're label mates. You're out with Third Day and myself. … What's next for the band?
Dave: You know, I'm not sure. We're excited about the single, about the record; we're getting great feedback. We honestly feel that God has brought us here for a reason. And so, a mantra for us is that His Word is a lamp to our feet. He doesn't provide a flashlight, a billion candles so you can see the entire path. All we have is a lamp. And you hold the lamp in front of you, and you can only take a step forward. And you can only see the next step after that if you move ahead. That's always been the way. The tour ends in May. After that, we're not sure. We can only get to the next step if we take a step forward. So we feel like God is providing for us. We're in no position to doubt Him. We are excited. I'm sure we'll be touring, but who knows what He has in store for us. But we're excited no matter what it is.
Have something to say about this article? Leave your comment via Facebook below!
advertise with us
Example: "Gen 1:1" "John 3" "Moses" "trust"
Advanced Search
Listen to Your Favorite Pastors