New Noise: Children 18:3, Mainstay and More
Andrew Schwab, CCM Magazine
Tuesday, October 16, 2007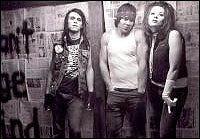 CHILDREN 18:3
Few can compare to the life, luster and liveliness in Minneapolis' Children 18:3. Though the band is punk rock by trade, the term itself can hardly do justice to the unique quality this act possesses. Featuring two vocalists—one male, one female—Children 18:3 boasts an armada of delicious melodies and a live show that is completely compelling in the most unkept, erratic sort of way. All three members also have the same mother. That's right, they are a three-piece punk rock band of siblings.
Vocalist Lee Marie gives her insights into the band's motivation, which only adds to Children's appeal: "We were all raised on a farm. We actually grew up working in the fields of Minnesota. I don't really like farming, though ... I would rather hang out with kids all day at shows and make new friends every single night. It beats picking weeds in a field."
As a new signee to Tooth & Nail, the band recently finished its label debut (untitled at press time) with producer Steve Wilson (Jonezetta) in Nashvegas. With a sound that can only be described as The New York Dolls meets Blondie meets The Pixies, I am very excited to see what happens with this band. Look for the new album to hit late this year. Until then, visit children183.com and pick up the indie disc, Songs of Desperation.
MAINSTAY
Minneapolis Sophomore's Mainstay emerged from the BEC pop/rock pack last month with their second album, Become Who You Are, which is a more contemporary take on the band's previous approach. This is closer to CHR and AC than it is to rock, and that is to say these boys have found their true calling with this disc. A nicer (dare I say "sweeter"—in the Napoleon Dynamite sense, not the mama's boy sense) group of guys you will not meet, as their sincerity shines on this collection of eternally uplifting jaunts documenting their hearts and experiences in Christendom. You heard it here first. If you haven't checked them out yet, please visit mainstayrock.com.
NODES OF RANVIER
Oh, the brutality. Amidst the onslaught of metalcore comes a band whose heaviness knows no equal. And I am quite certain that nothing quite like this has ever come out of Sioux Falls, South Dakota. After releasing three full-lengths and an EP (via previous label home Facedown Records), Nodes of Ranvier has reached the promised land of hardcore, i.e. Victory Records. The band's latest and most destructive was just released, titled Defined by Struggle. If you like sounds that make you want to break dishes and turn over tables, this is for you. You can find out more at nodesofranvier.com.
DEMON HUNTER
My inside sources tell me the new Demon Hunter record (which was just finished in Seattle with producer Aaron Sprinkle) is both the band's heaviest and most melodic to date, with both double-kick moments as well as goth influences. The album is due out late this year, and if my hunch is correct, it should propel Demon Hunter into the category of bands that are in the upper one percent of metal music. With more than 250,000 copies in lifetime sales on their first three records (and each has sold more than the previous), look for this band to break into the general market in most impressive ways in 2008. For more info, check out demonhunter.net.
ATHLETE
British melodic rockers Athlete have some very interesting spiritual connotations in their well-crafted songs. With sounds reminiscent of Keane, Coldplay and The Fray, this Platinum-selling, talented crew does not lack in accessibility or provocation. Though not outwardly overt in their interviews or songs, Athlete's members are known to be active in their local churches and are veterans of the UK's Christian festival circuit—even first meeting at Greenbelt according to The Guardian. The band has an EP and two full-lengths under its belt—the second, Tourist (Parlophone), debuted at No. 1 on the UK charts in 2005, thanks in large part to the popular single "Wires." Visit Athlete's site to purchase its new album, Beyond the Neighbourhood (Astralwerks), athlete.mu.
Have something to say about this article? Leave your comment via Facebook below!
advertise with us
Example: "Gen 1:1" "John 3" "Moses" "trust"
Advanced Search
Listen to Your Favorite Pastors