"New Universe" - Music Review
Andy Argyrakis

CCM Magazine

2004

12 Jan

COMMENTS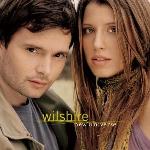 Artist:    Wilshire
Label:   Columbia Records
A lot has happened since the cute-as-a-button couple Micah and Lori Wilshire packed up its Nashville apartment and hit Los Angeles in pursuit of the major-label life. That's not to say the pair's faith is any less apparent than it was during its brief stint with Rocketown Records. It's just that its new label, Columbia Records, has given Wilshire higher- profile platforms, including opening spots for Train and Seal.
On the group's latest, "New Universe," progression can be found in the organic, forgiveness-focused "Without You"; the brooding, string-spiked brokenness ballad "Nothing to Lose"; and the slickly produced, love-anthem "In Your Arms." Lead single "Special" best describes the couple's recent career strides, serving as a cheerful muse for dreamers of all ages. On the whole, this disc could very well be considered a diary of the members' journey since we last heard from them, driven by moments of wonder, renewal and discovery.

© 2003 CCM Magazine.  All rights reserved.  Used with permission.  Click here to subscribe.