Newsboys' Peter Furler Asks, "Am I Worth Following?"
Lizza Connor, CCM Magazine
Tuesday, February 01, 2005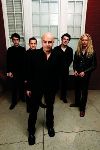 How does it feel?
To be on your own
A complete unknown
With no direction …
— Bob Dylan, "Like a Rolling Stone"
Peter Furler's story today unfolds like any Bob Dylan song — long and meandering, colorful and weighty, slightly unbelievable, nevertheless, vulnerable and honest. From the Franklin, Tenn.-based psychiatric hospital-turned-recording-studio, the Newsboys front man relays his own epic of upheaval, downward spiral and, now, ascent.
This conflict between man and himself is a universal theme that makes for Pulitzer prize-winning literature and world-renowned art. For Furler, it's the stuff of inspired melody and lyrics. His band's latest album, "Devotion," released in November. Furler cites the follow-up to the Dove Award-winning worship CD, "Adoration," as a natural outgrowth of recent events in his life.
But the new CD release doesn't compare to the spiritual renewal he's experiencing, and it is, he says, "far more exciting than music."
Welcome to Struggleville
About four years ago, the Aussie-born singer/songwriter and his band, the Newsboys, comprised of Furler (lead vocals), Jeff Frankenstein (keyboards), Phil Joel (bass), Duncan Phillips (drums) and Bryan Olesen (guitars), were enjoying success beyond what they could have imagined — gold records, sold-out tours, the adoration of audiences and media alike. But things couldn't have been more broken under the surface. "Everything in my life was falling apart," Furler says.
His marriage was strained, and his faith had lapsed. Growing up a pastor's kid, Furler says, had a strange, lasting effect on him. Instead of attending youth group and Sunday services in his youth, he developed a bit of a rebellious spirit. Over the years, he'd moved away from reading Scripture with regularity.
"I couldn't judge my thoughts and attitudes or other people's opinion because I had nothing to judge them against," Furler says. "I didn't know where the truth was, and I was led all the wrong places."
And though he had the knowledge of biblical truth planted in him from earlier years, Furler says it wasn't evident in his life. "I knew Jesus was the way, but I was lost. I knew He was the truth, but there wasn't much truth in me. I knew He was the life, but my life didn't look any different than anyone else's," he says.
Furler plunged into a descent he calls a "crash in slow motion."
We Are a Beginning
"Sometimes when you get floored, that's the place where God likes to find you," Furler explains. He took to heart the famous 20th-century theologian Thomas Merton's words that "even the desire to desire God comes from Him." And although, Furler, a voracious reader, had acquired great knowledge of Merton, Chesterton and Augustine's work over the years, he hadn't returned to the source. Thus, he began petitioning God for a hunger for His Word.
Furler began building a new faith-based perspective as he devoured the Scriptures. God's voice became apparent in his life as he used the Bible as a gauge for others' opinions and circumstances. A new sense of peace settled on him, and his marriage was on the mend; yet something was still lacking. 
As he searched the Word for the missing link, Furler says what struck him most was the value of community and the lack thereof in his own life.
"It's not good for man to be alone," he says, citing Genesis and the creation of man. "I had nothing against church; I just had no spiritual family."
Have something to say about this article? Leave your comment via Facebook below!
advertise with us
Example: "Gen 1:1" "John 3" "Moses" "trust"
Advanced Search
Listen to Your Favorite Pastors