Newsboys' Peter Furler Asks, "Am I Worth Following?"
Lizza Connor, CCM Magazine
Tuesday, February 01, 2005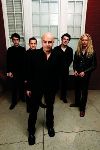 Furler says his idea of church was riding around in his car on Sunday morning listening to audiotapes of Nashville-based Rev. Ray McCullum.
As he gained an understanding of the scriptural principle of community, Furler says God blessed him with friends "worth following," including the Rev. Rice Brooks, pastor of Furler's current church home. 
"Accountability," once a term he'd associated with gossipy small groups and self-help circles, became a source of comfort once he began developing relationships with other godly men.
"You can explain the word 'accountability' to someone, and it just sounds like networking," Furler acknowledges. "But I've found that it just means living in fellowship with one another. Now when I go to church, I don't go for the music, the décor, the atmosphere. I go because it's people walking together in the light."
Personal Revolution
What Furler is finding these days is that "rock & roll is boring in comparison to the true church." This artist, who once viewed his purpose as entertaining audiences, is not the same person now, he says.
"In these last few years, I've lived my life, thinking, 'I've got to seek first the Kingdom and love my wife as unto the Lord. That's all I can do right now," he says. "I know who I am in Christ, and all the other stuff is going to burn away in a beautiful way."
"Newsboys was my 'food' for many years," acknowledges Furler, "but I was starving." What sustains him now is God's purpose. "I don't care about what people think or how our record [sells] because that's not my food anymore. It's about seeking God's Kingdom and having someone in my life who's gone before me, who'll stand by my side."
He recalls an influential, impromptu Bible study several years ago at the studio with Rev. McCullum. The whole band was present and had recognized the crisis brewing, Furler says. McCullum spoke truth that served as a healing salve for the band.
McCullum talked about the church, what it meant to live in community and how to use one's influence in one's respective peer group.
After that, something changed in the group's dynamic. Each member gradually locked into his respective church. The Newsboys members re-examined their relationships with each other. "Because of our pastors, [the relationships] are being restored," Furler says.
Newsboys keyboardist Jeff Frankenstein confirms the change. "Within the band, we've always been 'guy's guys,' who didn't encourage or compliment each other. But we are seeing the Lord do His work."
Furthermore, Frankenstein says Furler's personal testimony has inspired and reshaped the band. "The leader of any group sets the tone, and Peter isn't the same guy I met 11 years ago. He's opened up, and his personality has changed."
Frankenstein adds that the Newsboys have also realized what an example they can be to people and also mourns the fact that "we've neglected that.
"We didn't realize how much we were missing and how much more there was. I know there are people out there who are like us. I know there are fathers out in the audience struggling to keep their families together, and there are kids who are skeptical of the church. For us, as a band, [our goal now is] encouraging the church and other believers."
The Ground Beneath Your Feet
The dramatic change in Furler's relationships with his wife, his band mates and his Creator continues to humble and amaze him, he says. To maintain perspective, he measures his actions against one standard:  "The greatest question I can ask myself now is, 'Am I worth following?'" Furler says. But he's quick to point out he doesn't need a multitude.
Have something to say about this article? Leave your comment via Facebook below!
advertise with us
Example: "Gen 1:1" "John 3" "Moses" "trust"
Advanced Search
Listen to Your Favorite Pastors