Newsboys' Peter Furler Asks, "Am I Worth Following?"
Lizza Connor, CCM Magazine
Tuesday, February 01, 2005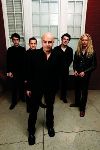 "Jesus told us to go into all the nations and make disciples. He didn't tell us to go sell records. The only way I can make disciples is if I am a disciple. That's how we are going to make a difference."
Furler says the most important thing he's learned from the experience is the importance of knowing Scripture and the value of memorizing it. "When the storms of life blew in, I was always blown over because I lacked that foundation," he admits.
"What you put in front of your eyes and in your ears will shape you," says Furler, "and we need to be shaped by God's Word. It's pure, it's living and active."
These days, Furler and his band are pointing audiences toward the devotional they use, "The Purple Book," co-written by Furler's pastor, Rice Brooks. "The Purple Book," slated to be in stores next year, outlines basic biblical doctrines.
Furler says he'd like to see the book, now free at Newsboys concerts, in the hands of a million people over the next year.
"If we are going to spend our time out on the road and leave our families, we want to encourage people to be a part of the church Jesus is building," he says. "Our music will be forgotten at some point, but the Word won't."
What's Next for the Newsboys?
Furler says restoration is a natural step forward.
The band's latest release, "Devotion," follows up the extremely popular worship record, "Adoration," and some question whether these rock & rollers are going in a new direction. Its 10 songs are upbeat and vertical in nature, and Furler employs some of the worship circle's best tunesmiths to co-write, including Tim Hughes and Steve Taylor.
But, according to Furler, there's no grand ideological shift that's taken place here. Rather, these songs are just conduits for relaying his recent experience. "Since I've been so excited about the church recently, there was definitely more of a corporate feel on "Devotion." But I just made this record. I didn't try to make a 'worship record,'" he says.
He does, however, cite one particular experience a few years back that changed his approach to writing songs. As he was sitting in his living room banging out tunes on his guitar, he felt a stirring in his heart.
"God was saying to me, 'Tomorrow night you're going to be in an arena filled with people. How will you lead them to worship Me?'"
"And I couldn't do it. I felt so convicted," he says. "That's when I wrote 'It Is You.'" Furler says from then on he approached his craft with an eternal perspective, and his songwriting hasn't been the same since.
He eschews the question of whether the Newsboys are jumping on some kind of worship bandwagon. "If you're writing a worship song for the wrong motives or to sell records, then … people can sniff that out. They know a phony. There are more worship records out there that don't sell than worship records that do sell."
As for the Newsboys' next release?
"I don't know what it will sound like yet," says Furler.
But he does offer one hint about the content. "I feel like it will be about restoration," he explains. "You adore something, often from a distance. To be devoted to it, you have to come a little bit closer. When you finally touch it, if it's something good, it will start to restore you. And that's what this process has been like for me. I've started to adore the things of God, now I've become more devoted to them, and they've begun to restore me."

© 2005 CCM Magazine.  All rights reserved.  Used with permission.  Click here to subscribe.
Have something to say about this article? Leave your comment via Facebook below!
advertise with us
Example: "Gen 1:1" "John 3" "Moses" "trust"
Advanced Search
Listen to Your Favorite Pastors