No You, No Me - Music Review
David Mackle

Music Reviewer

2002

31 Oct

COMMENTS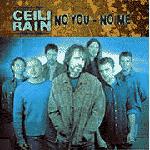 Artist:  Ceili Rain
Label:  Cross Driven Records
You don't have to have the gift of discernment to figure out why the Celtic rock band Ceili Rain chose its name ("ceili" means a party with live music and dancing). 
With the rollicking Irish instruments and upbeat rhythms on its most recent effort, No You, No Me, the group easily lives up to its chosen title.
On "Everybody Clap for Everybody," front man Bob Halligan uses the metaphor of a Little League baseball game to encourage the listener to love others instead of competing against them, almost as if there isn't room for both.  Several other tracks reiterate his amorous views, as it nearly becomes the theme for No You, No Me.
While lyrically the album never scratches far below the surface, the phenomenal instrumentation ultimately holds the project together.
Used by permission.  CCM Magazine © 2002