Norma Jean: What's in a Name?
Dr. Tony Shore, CCM Magazine
Thursday, February 22, 2007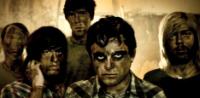 When asked if the other bands, the press or the fans ever give them a hard time about their faith, he says, "It gets brought up a lot, but it's more of a curiosity than a slam. We haven't tried to run from it or hide from it, and I think that, when you're honest about it, people respect that. We welcome people who ask questions about it."
"Redeemer" is receiving rave reviews from critics and fans, including fellow musician Chris Dudley, the keyboardist for Underoath. "I don't think Norma Jean can put out a bad record," he says, "The songs and the new album as a whole are of brutal and intelligent design."
"Redeemer" is catapulting the band to even more success. The legendary Ross Robinson (Limp Bizkit, Korn, Sepultura), one of the most acclaimed producers in hard rock, handled the production of the album. "It was a dream come true for us," states Davison. "If there was one person we could work with and have produce an album, it was Ross. He came to see us at a show about a year ago and stuck around to talk with us afterwards for an hour or two. He really encouraged us to get back to the real reasons why we got into music and got us to think about why we're playing the music we do. He lit our fire, got us stoked to write new songs. He told us to write this record 'like it's your first record and like it's your last record. Give it all you've got.'"
The music on "Redeemer" speaks for itself, but the album cover is also causing a buzz. Front and center is a stark painting of a large black crow biting a girl's head and finger. Says Davison, "We wanted something that speaks loudly. The producer, Ross Robinson, had the picture of the boy with the crow biting his ear in his house. And so we got a hold of the artist, and he had another version with the girl, which is the cover. There are some themes on the record of deception and how we can be deceived, and the paintings are symbolic of that."
And then there are the band's intense music video, live performances and sometimes-dark lyrics. "At face value, it may seem a bit dark. But we play the kind of music we do because it's our way of showing our passion, and we feel it's from God," explains Davison. "It's not all happy, but we try to have some hope in our albums as well. There are bad things that go on, so we don't want to hide from that. But we try to end it on a hopeful message. We discussed lyrics with Ross, and he was very interested to know where we got the lyrics. We would talk about the songs, tell him how they related to each of us and tell him the passages that were taken from the Bible … like Jesus said this or that, and that's what inspires our lyrics. He was blown away by that."
That integrity seems to be what the members of Norma Jean are all about, sharing their faith and their passion through this intense art form. Davison sums it up well, saying, "The one name we won't back down from is 'Christ.'"


© 2006 CCM Magazine. All rights reserved. Used with permission. Click here to subscribe.





Have something to say about this article? Leave your comment via Facebook below!
advertise with us
Example: "Gen 1:1" "John 3" "Moses" "trust"
Advanced Search
Listen to Your Favorite Pastors