Oh the Joy of 'Flying'
Matthew Turner, Music and Entertainment Editor
Tuesday, October 08, 2002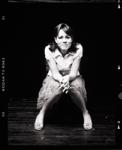 Sara Groves' grandfather lived in the lush, green hills of Vermont in a small community where he spent the good part of his years building a thriving business in carpentry.  At age 42, inspired by nothing more than a dream, he quit construction to pursue the life of a pastor.  This calling from God guided him to a small, neglected building that somewhat resembled a church.  With a lifetime's worth of carpentry skills and a newfound passion for ministry, he rebuilt the church and started holding services there shortly after construction was completed.  God allowed "Grampa" to serve six churches before his death in 1996.
Her Roots
Generations of Sara Groves' family have been shaped by such stories.  Groves believes her family, both immediate and extended, is what has molded her faith in God and shaped her desire to work in ministry.  And this 30-year-old Minneapolis transplant feels fortunate to have plenty of family around.  "My husband, Troy, is from Minneapolis, and everyone is here," says Groves.  "It's awesome.  [His] parents and grandparents, great-grandparents, aunts and uncles, cousins—they all live very close."
Groves admits that living up to the Christian legacy begun by her family can be intimidating, and she has had thoughts of running away scared.  But instead of giving in to the temptation to quit, she dives headlong into her life as a wife, mother and minister.
"I don't remember one day without Jesus," exudes Groves as she reminisces about her Christian roots and how they have empowered her life.  "I gave my heart to Christ when I was 4 years old, but I knew Him before that.  David [in Psalms] said, 'From my mother's womb you made me trust you, from the breast you have been my God.'  I was reading that the other day and I thought, 'That's my faith story.'  The Word of God has been a huge part of my life.  It's so deep in me, but I had nothing to do with that.  My folks, my grandparents and their parents brought me up on the very words of God.  Someone else's challenge may be to break the generational curse," says Groves with a grin.  "My challenge is not to blow it."
Yet even as she laughs through the "challenges" of life, the once self-proclaimed "high school geek" is quite aware that her life is no more stressful or demanding than any other woman who lives and breathes inside the reality of marriage, motherhood and a successful career.  In fact, Groves thinks her life is great.  She, Troy, and 2-year-old son, Kirby, spend nearly 24 hours of every day in each other's company.  And although she's aware that this arrangement has its own special challenges, Groves finds this time with her family rewarding and uplifting to her spirit.
Her Faith
One central result of Groves' strong family roots is her understanding of faith and its impact on her entire life as a woman, not just her life as a believer.  "I have learned that my Christianity doesn't just live in the church," says Groves with certainty.  "[The church] is the place where we come to fellowship and  encourage each other, but that is not the only place where my Christianity lives—" suddenly she pauses.  "Can you give me one minute?"
After a brief interruption to switch Kirby's children's video, Groves returns to the interview and picks up right where she left off.  "Christianity lives in my home!"
Groves believes that Jesus presents Himself more to her in the everyday life than He does in the church.  "I've never felt so close to God than when I brought Kirby Nathan home from the hospital," she explains.  "And the song, 'You Cannot Lose My Love' was born out of that moment.  I looked at him and thought, 'My word, God loves me this much?  I love this baby so much, and I will never ever stop loving him.'  And I knew at that moment what the Father meant when He said He loved me, when He went to the cross and died for me.  And even though 'You Cannot Lose My Love' is a lullaby, it is the most spiritual song on the new album.  I understood more about God in that moment than I have in my whole life."
Have something to say about this article? Leave your comment via Facebook below!
advertise with us
Example: "Gen 1:1" "John 3" "Moses" "trust"
Advanced Search
Listen to Your Favorite Pastors