On the Road Again
Thom Granger, CCM Magazine
Tuesday, January 25, 2005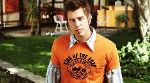 Jeremy Camp has been a busy man. Touring almost constantly for the past couple years, initially to support the phenomenally successful (six No. 1 singles) debut recording "Stay," then out last spring with the Newsboys/Rebecca St. James "Adoration" tour to follow the release of his "Carried Me: The Worship Project," Camp somehow found the time to have a personal life.
This would be an accomplishment for any artist in the rush of a career blooming as quickly as this one; but for Jeremy Camp, finding new love, marrying and starting a family is downright astonishing, considering the restoration needed to recover from a tragedy that occurred not so very long ago. But we're getting ahead of ourselves here.
The first question is:  Is this guy driven or what?
Camp laughs at the question, which is further enhanced by the fact that, after flights to meet up couldn't be arranged, the only way possible to do this interview was by cell phone as he rolled down the road in a car driven by his wife, Adrienne (formerly of The Benjamin Gate), and accompanied by their weeks-old daughter Isabella Rose, toward the next stop on his fall tour.
"You know, I remember back in the Spring of 2003: We had 12 shows in a row, and we were traveling in a van then. I had to go straight into the studio after that, and I thought, 'Is this all worth it?' And earlier this year my dad, who has been a great mentor in my life, said, 'This is a time in your life when you're not tied down with a child and when your wife is able and willing to travel with you. If you feel led and are able to dig deep these first couple years, then, by all means, do it.'
"The fact is, it has felt right and though I've been crazy busy, I've been at peace with what seemed to be just getting everything out that was inside me. I look back about two and a half years ago when I went on my first tour ("Festival Con Dios") and [think about] what my goals and desires were then, compared to my realities now. I never thought my ministry would be thriving as much as it is, let alone have a wife and child.
"My dad came up for the show last night, and we had breakfast together this morning. He said, 'God is really blessing you. Be grateful for what He's giving you and enjoy it… but don't ever take it for granted.' Believe me, I don't. Yes, I've worked hard; but, ultimately, it's God putting His hand of blessing on my life and ministry, and it's very humbling."
Blessings, indeed. Besides the six-pack of No. 1 songs from "Stay," the album sold remarkably well (almost 325,000 copies); and last year's Dove Awards saw Camp walk away with both "New Artist of the Year" and "Male Vocalist of the Year" accolades. Not bad for a guy who thought he was going to be a professional football player a decade or so ago.
But time and life have a way of changing plans. And most of Camp's fans know the story by now — of how Jeremy lost his first wife, Melissa, to cancer in early 2001, the test of his faith that followed and the songs that document that struggle, most of which appear on "Stay."
And one can't help but think there's nothing more Jeremy would like to do right now but stay … home, that is, after an all-too brief month off the tour to see his first child born and help Adrienne. But it's back on the road all too soon, as Camp explains.
"I took a full month off of the tour, and it was amazing. But it was really hard to leave my wife and child and go back out again. I'm with them right now for a couple days, and I can't believe how much she's already grown! But I'm very lucky to have a wife who really understands, and when she says, 'I know that this is what God called you to do,' I know she means it. Adrienne has lived this lifestyle and even toured with me when she was first pregnant and even though she misses it, she encourages me to do what I feel God calling me to do right now. I'm very grateful for that.
Have something to say about this article? Leave your comment via Facebook below!
advertise with us
Example: "Gen 1:1" "John 3" "Moses" "trust"
Advanced Search
Listen to Your Favorite Pastors