"One More Last Time" – Music Review
Jessica Robin

Music Reviewer

2003

19 Mar

COMMENTS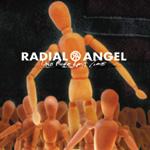 Artist:   Radial Angel
Label:   Squint Entertainment
Radial Angel may be a bit of a misnomer for a band that's musically heavier and lyrically more ambiguous than the name implies. This easily labeled "rock" music follows the familiar pattern of today's radio-friendly bands -- crunching guitars and powerful drum rhythms interlaced with melodic sojourns. Also included are strategically placed dramatic pauses to intensify the effect.
Vocals reminiscent of Scott Stapp's gravelly bass and Gavin Rossdale's emotional whine tend to become tiresome after the fourth or fifth consecutive song. Yet the mix succeeds on softer tracks such as "Rain", "Something" and the ballad "She," which holds definite single potential. Mainstream crossover also seems inevitable for tracks like "Give" and "Untitled," while songs like "Your Name" and "Love" are poised for CHR. Thankfully, the excellent lead guitar solos weave a consistent thread and lift "One More Last Time" above the level of mediocrity. 

Used by permission.  CCM Magazine © 2003  Click here to subscribe.