Out of Eden: No Turning Back
Andree Farias, CCM Magazine
Tuesday, January 09, 2007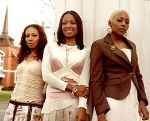 These are all easy options if you're a band marked by burnout, disillusionment and unfulfilled expectations. All of these words have a negative connotation; they're particularly commonplace in the fickle landscape of modern music – including the Christian music business – where it's not unusual to witness groups of young hopefuls disintegrate after they, for whatever reason, fail to make it.
Yet, in the case of Out of Eden – sisters Lisa, Andrea and Danielle Kimmey – there is not one vestige of disenchantment, bitterness or remorse in their decision to retire. Au contraire! If the farewell track "Mighty Mighty Good" – the last-ever song the trio recorded for "The Hits" (Gotee), a career retrospective released last month – is any indication, there's nothing but resolve and a sense of a job well done.
"When I just look back over my life … just think back … I know my God's been mighty mighty good to me," goes the hook of the song, one as jubilant as any other they recorded during their trailblazing, 13-year run in Christian music.
They came at a time when urban pop music was virtually a nonentity within gospel and Christian music, long before Kirk Franklin and Mary Mary eventually tore down the barrier between the two.
Yes, Out of Eden is retiring. And, as the girls themselves would sing in 1999, they've "made it this far and there's no turning back now."
Everybody's sad about it.
"I'm protesting," says longtime collaborator and former tour partner DJ Maj, who owes some of his success to the girls for being frontrunners in the R&B and hip-hop arenas. "Nah, it's kinda sad. Their perseverance was a very influential thing for me. They didn't allow where they were from or any obstacles to get in the way of what they were going to do. They continued to work hard at their craft. That was very admirable. Their work ethic was very inspirational for me."
"I'm completely bummed," adds Joey Elwood, co-founder and president of Gotee Records, the label that first gave the girls a chance. "[Out of Eden] was our cornerstone. Without them, there is a very good chance there would be no Gotee."
Elwood is not exaggerating. Truth be told, the label was created for Out of Eden.
Toby McKeehan – then one-third of dc talk and business partner in Gotee Productions alongside Elwood and producer Todd Collins – first caught a glimpse of the girls when his supergroup was in rehearsals for a tour. It was like love at first sight.
"What drew me to them was the way they communicated. Everything I sensed in them was pure," says McKeehan. "Even the inner talent was obvious. It just needed to be unearthed a little more. They knew exactly what they were doing. They were three young girls who had a vision. They were mature beyond their years. They just needed an on-ramp to the Interstate. Thank God we were able to provide that for them."
Before this providential meeting, OOE didn't really have aspirations to become recording artists. If anything, they sang because their mother made them.
"Our mother is responsible for Out of Eden coming together," says Andrea. "She saw the potential and urged us to practice and practice. Since we were home-schooled, we had lots of time. Pretty much all that we would do is practice."
"Honestly, at first, we hated it because it was something our parents wanted us to do," says Danielle, who was barely 12 at the time the group signed with Gotee. "And then … we were like, 'We're either going to have to start loving this or quit.' So we really spent a lot of time in prayer, saying, 'God, if this is your desire for our lives, then give us the desire, give us a love for it.' And He did."
Have something to say about this article? Leave your comment via Facebook below!
advertise with us
Example: "Gen 1:1" "John 3" "Moses" "trust"
Advanced Search
Listen to Your Favorite Pastors