Paul Colman Trio on ... America
Janet Chismar, Senior Editor, News & Culture
Thursday, July 03, 2003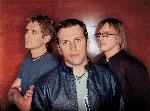 When it came time to see about making a new map of the world, Paul Colman Trio picked up from their native Australia and traveled a gazillion miles to the shores of America – the Christian music mecca of Nashville, Tenn. to be specific.
Thankfully, the musical trio (2000 and 2001 winners of The Rock Across Australia chart's "Artist of the Year") didn't have to bother with figuring out longitudes and latitudes or deciding if the ocean colors should be shades of "Caribbean Blue" or "Reflecting Pool."  But they did need to record their Essential Records debut, call it "New Map of the World," and have it warmly received by new American fans.  All of which they did.  And rather well.
In fact, Paul Colman Trio's Paul Colman (lead singer/guitarist), Grant Norsworthy (bass/vocals), and Phil Gaudion (drums/vocals) made their "New Map of the World" so well, that they quickly received widespread critical acclaim and doors began opening for the trio in their new home continent.
In the past year in a half, PC3 has embarked on two major tours (Third Day's "Come Together" tour and FFH's "Ready to Fly" tour, seen two radio singles hit No. 1 ("Turn" and "Run"), been named one of the "Top 10 Breakthrough Artists of the Year" by Radio & Records, received a GRAMMY nomination for "Best Pop/Contemporary Gospel Album" and a Dove Award nomination for "Pop/Contemporary Album" – plus they walked away with this year's Dove Award for "New Artist of the Year."
Seems as though "coming to America" has been a good thing for the trio from Downunder. Recently, we sat down with all three members of Paul Colman Trio and asked them a little more about their time here in America and how they felt about their new home.

---
Crosswalk.com:  How do you feel America has responded to your first record for Essential Records, "New Map of the World," vs. anywhere else?
Grant Norsworthy: I think we've all been very, very happy with the radio support for "New Map of the World." There were four singles and two of them went to No. 1 and one of them went top 5 on AC radio and the other two on CHR. I think even people within our organization have been like 'wow' … [we've come] from overseas … that's an amazing amount of support.
Paul Colman: We only scanned about 50,000 CDs in the first two months of its current release. Jars of Clay scanned about 250,000 in two months. And they've been recording for 10 years. So it seems that familiarity breeds scannage! So I think that America has responded very warmly to the band. I don't think we've seen that reflected in sales yet. But it seems it takes quite a while to build a brand. And that still – for Australia – that's 15,000 units above gold. So, it's a modest success.

CW: Did you have any preconceived notions of Americans before you moved here or visited for the first time – and if so what were they?
Paul: We're quite familiar as Australians w/ American culture through music, through film…
Phil Gaudion: Sports, too…
Paul: Yeah through sports. And there's a proliferation of it. And I think Australia is like a younger brother looking at an older brother. Maybe a bit of jealousy or maybe a bit of … something.… But there is a lot of love between Australians and Americans. But those are some of my perceptions anyway.
Grant: Australians have a bit of an inferiority complex which probably comes from our colony culture and heritage. I reckon it's exemplified if you have an Aussie Rules Football player who just kicked an incredible score in a game and he's been interviewed after the game - they're going to say "Wow you've kicked 12 goals!" He's going say "Oh well, the team, the coach, oh I was only standing there. People who are much better than me passed me the ball." And that's seen as being 'What a good guy, what a humble and modest man!' But it's not really. You might see an American football player score 17 touchdowns. I think that's impossible, but if he scored a lot of TD's he would say: "Yes, I did great. I'm very happy with my game. I did fantastic. I'll remember this game for the rest of my life." An Australian will watch that and say: "Arrogant American" But actually he's being more truthful. Sometimes the American sports person or other person might go over the top and say: "Yeah, I'm number one, I'm the greatest." Some of that is the hype of America, something that Americans like to chew up. But Aussies can't stand that. I actually think the American position is more honest.
Have something to say about this article? Leave your comment via Facebook below!
advertise with us
Example: "Gen 1:1" "John 3" "Moses" "trust"
Advanced Search
Listen to Your Favorite Pastors