"Photographs & Tidalwaves" - Music Review
David McCreary

Music Reviewer

2003

6 Jun

COMMENTS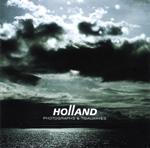 Artist:   Holland
Label:   Tooth & Nail Records

Tinged with enough pop-infused rock to make "American Idol" producers jealous, this Nashville-based trio strikes a firm chord on its major label debut.

Led by siblings Will and Josiah Holland, the band effectively borrows from the likes of Superdrag and Foo Fighters without plagiarizing. Highlights include the enduringly tuneful jewel "Shine Like Stars" (sure to illicit an acute case of "repeat buttonitis") to the exquisite yet melancholy acoustic renderings of "Losing Jim."

Only a few tunes miss the mark (consider go-nowhere track "The West Coast" and yawner "Goodnight Texas"). Overall, though, the disc offers a solid representation of Holland's promising talent.
Used by permission.  CCM Magazine © 2003  Click here to subscribe.