Pillar: Road Confessional
Andrew Greer, CMCentral.com
Thursday, October 08, 2009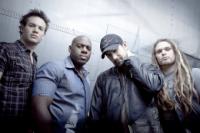 Tearing up Christian music with enterprising rock records and an explosive stage show, Pillar has entranced fans for years with full-force, red-blooded rock. But the aggressive collective has more than rabid guitars and zealous screams up their sleeves.
Intensifying its GRAMMY-nominated discography with super melodic hooks and symphonic backdrops, the rock-hard quartet probed the depths of their artistry while prompting fans to get right with God. The result? Their sixth studio release, Confessions.
In keeping with 1 John 1:9: "If we confess our sins, God is faithful and just to forgive us our sins…" the boys hit the road this fall with a confessional booth in tow, pounding hardcore hope into the lives of fans nationwide. And though Pillar plays hardball on stage each night, front man Rob Beckley admits a typical day on tour consists of "sitting around 23 hours so you can play one."
But show time or naptime, inquiring minds still want to know exactly what our favorite rockers do during a "day in the life."
On the Road with Pillar
10 a.m.—12 p.m. The ole Pillar Greyhound bus delivers the crew and band to that day's concert venue. Crew loads in and sets up. Beckley admits, "I stand by and watch or stay in bed."
1 p.m.—3:30 p.m. Sound check. Pillar dials in first, then schools the opening acts in the world of live sound. "In and out," is the phrase for the day, says Beckley. "Stay focused on what needs to happen. Get in and get out." Got it, coach!
1 p.m.—5 p.m. Interviews and recess. While bands finish tuning it up onstage and bandmates perform a gun show at their local gym, Beckley shares the Pillar vision via phone interviews and an occasional face-to-face. Then it's off to find a quiet nook "where I can actually sit down and focus on writing songs," i.e., cook up a fresh batch of Pillar rock goodness.
Describing himself as a "venue rat," Beckley would prefer "to hang out, get to know people," and scope out the evening's musical residence rather than pump some iron. But if the venue's a ghost town? "I'll grab my golf clubs and play a few holes."
5 p.m.—7 p.m. Dinner's ready! "The band is always first to eat because our crew is always working. [Laughs] I guess we're divas," Beckley says. So how is the food on tour? "Some nights are better than others. We'll just leave it at that."
6 p.m. Doors are thrown open as crazed Pillar die-hards rush the stage to secure the best "seat" in the house.
6:15 p.m. Beckley and crew gather for a little pre-show schmooze with fans and industry personnel, otherwise known as a meet and greet.
7 p.m. Arguably one of the most important blocks of time on the schedule is Beckley's fireside chat with youth leaders. "I talk about what to expect for the evening and what they can hopefully take away from it."
Purposefully titling the new record Confessions, Beckley is passionate about hearing the kids' burdens. "We want to hear what is going on. We're opening up the floodgates. We get all these confession cards from kids every night and it's like, 'Wow, there's a lot of stuff going on.' It makes me feel like what I do is even more worthwhile."
7:30 p.m. Showtime. Beckley emcees the evening, thanking the crowd for coming out and explaining the themes behind that night's tour date. On the Confessions tour, he wants concertgoers to better understand "how to confess the burden of sin to help start the healing process." And he encourages going one step further by learning "how to be confessed to. The Church has failed a generation miserably by not letting people freely share their burden and their sin. We should be able to bring our burdens to the Church and sternly, yet lovingly and gracefully, walk through a healing process, guided with accountability."
Have something to say about this article? Leave your comment via Facebook below!
advertise with us
Example: "Gen 1:1" "John 3" "Moses" "trust"
Advanced Search
Listen to Your Favorite Pastors