Plain White Rappers? As If!
David Jenison, CCM Magazine
Tuesday, September 13, 2005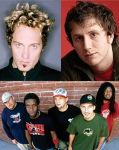 Hip-hop's skyrocketing growth, which includes a new wave of socially aware rappers, continues to knock down racial lines and allow other cultures to express their talent. For so long, African-American emcees were the only ones with street cred. In recent years, however, the entire music industry – Christian and otherwise – benefited from individuals of various backgrounds using rap to express their culture and beliefs. In 2004, fans even saw the first major label Asian rapper, Jin. The dividing lines cannot withstand hip-hop's momentum, which has truly become overwhelming.
"Hip-hop is continually growing in mainstream exposure," says Flynn of L.A. Symphony, a group that's shared stages with the likes of X-zibit and Ice Cube. "I read somewhere that hip-hop culture consumes about 20 to 25 percent of the marketing force/influence."
Last year, rap album sales growth outpaced rock and alternative by nearly two to one, while rap discs topped the Billboard 200 chart four times as often. Remarkably, it was just 25 years ago that Kurtis Blow released the first major label rap album, yet today it's rap artists setting the new sales benchmarks. Of course, with some questionable characters in the game, rap's image often gets tarnished. Still, one shouldn't ignore the way in which hip-hop is bringing people together as more talent emerges from different cultures.
As most any hip-hop head could attest, Latin rappers are hotter than ever. From the new record labels Bad Boy Latin and Wu-Tang Latin to stars like Fat Joe and reggaeton sensation Daddy Yankee, the Latin culture is making its voice known. In Christian circles, the late D-Boy was an early rap pioneer, while modern artists Urban D and seminal rap veteran T-Bone continue to represent and keep their priorities straight.
Says T-Bone, "[I want] to revolutionize Christian hip-hop/conscious rap and make my music so undeniably excellent that the world has to recognize it and provide a platform for it to be distributed everywhere."
While African-American rappers such as GRITS and The Cross Movement still lead the way for the faith-based industry, Caucasian rappers are finally getting respect as well. Whatever one might think of his values, Eminem certainly helped give white emcees credibility, while indie rappers like Sage Francis and Aesop Rock do the same at a street level. In the Christian market, no Caucasian rapper can claim the impact of dc talk's tobyMac. While his group later  moved in a different direction, Toby has emphasized his hip-hop roots as a genre-bending solo artist.
"dc Talk always had this golden thread of hip-hop running through it, but that slowed down towards the end," Toby says. "'Jesus Freak' still felt that way, then 'Supernatural' felt like it was just gone. I wanted to start over with the hip-hop roots, this time letting everything evolve from that base, and see how it evolves differently as a solo artist."
While tobyMac already claims two big solo releases, "Momentum" and "Welcome to Diverse City" (Forefront), he certainly isn't the only credible Caucasian rapper in the game these days. Artists such as KJ-52, John Reuben, Mars Ill, Benjiman, Bobby Bishop and the multi-ethnic L.A. Symphony are now some of the most buzzed-about names in Christian hip-hop. These rappers, who all take their craft very seriously, continue to help reverse years of gimmicky white emcees in both markets.
While different cultures are making a name in hip-hop once again, Christian hip-hop actually started with lots of Caucasian and Latin emcees, like Dave Guzman (JC & the Boyz), members of JC Crew, D-Boy, MC Ge Gee, the Plain White Rapper and of course, tobyMac. Even Mark Salomon of Stavesacre (then with The Crucified) released a hip-hop album under the name Native Son. With due credit to Michael Peace for helping launch Christian rap, African-American groups took off a bit later with such pivotal acts as S.F.C. (a.k.a. Sup the Chemist), P.I.D., the Dynamic Twins, Freedom of Soul, I.D.O.L. King, D.O.C. and the Gospel Gangstas. Ironically, Caucasian artists often had a promotions edge because they could cross over to other radio formats more easily, a phenomenon that's not isolated to the Christian music industry.
Have something to say about this article? Leave your comment via Facebook below!
advertise with us
Example: "Gen 1:1" "John 3" "Moses" "trust"
Advanced Search
Listen to Your Favorite Pastors