Plus One's 2nd Take
David McCreary, Contributing Writer
Wednesday, December 03, 2003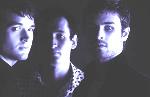 Shucking its boy-band image and saccharine-sweet harmonies, popular pop music act Plus One returns as a modern rock trio. Considering all the changes these guys have gone through since the group's inception, their story could easily read like a dramatic screenplay. Just picture it: Losing two band mates along the way, three young protagonists face seemingly insurmountable odds in pursuit of their ultimate goal — to reinvent themselves and forge a new path toward personal and artistic maturity. We now join the action during a recent scene, as the band is only a few weeks away from finishing its latest album.

Fade In:
Exterior parking lot near downtown Franklin, Tennessee. (Dusk)

Scene:
The three members of Plus One — Nate Cole, Gabe Combs and Nathan Walters — are standing in front of Cole's silver 1997 Honda Civic. The vehicle looks as if it has seen better days, especially considering the rather conspicuous dent in the right front fender.

Cut to Next Frame:
Cole, the group's messy-haired, stubble-faced front man, hurriedly tosses assorted music magazines, CDs and scads of what appears to be junk mail into the car's trunk. Obviously embarrassed, he attempts to make room for everyone to ride to a nearby eatery. Once Cole completes his speed-cleaning session, the ride begins.

Scene One:
In many ways, Plus One's intriguing career journey resembles Cole's less-than-perfect automobile. So much has happened with the group in the past year or so — everything from two band mates leaving, to changing record labels, to abandoning its boy-band shtick — that the group's entire existence nearly became a cluttered and confusing nightmare.

Then there's the "body damage" the guys have encountered along the way, like financial woes from a previous tour, issues with their former label and marketing hype that branded them as young heartthrobs rather than accomplished musicians.

If anyone should be granted diplomas for graduating from the school of hard knocks, it should be the guys in Plus One. "If you had asked me a year ago if our group would still be together today, I probably would have said, 'No,'"

Sitting in a U-shaped corner booth, the three young men ruminate openly about their lives, music and the future. Dressed in faded jeans and assorted t-shirts that cling to their slender frames, the guys manage to look disarming yet, interestingly, not too comfortable.

Of the three, 22-year-old Cole seems the most self-assured. That's not to say he's egotistical; he simply interacts with a confidence and charm that belies his age. Perhaps even more impressive is his candor.

Asked about the struggles the group has experienced, such as dealing with the departure of colleagues Jeremy Mhire and Jason Perry, Cole glibly answers, "When you hear about personnel changes, no matter how much you try to sugarcoat things, it's uncomfortable. There's always a rub involved … but we're still friends with both guys."

As Cole tells it, Mhire desired to "settle down and have a more simple life," recently marrying his longtime girlfriend and becoming a drama instructor. Perry, currently pursuing a solo recording career, still resides in the Nashville area and is engaged to be married soon. "The running joke is if you get married, you're out of Plus One," Walters cheerfully quips, smiling before devouring several large bites of the double chocolate cake he's supposedly sharing with Combs.

Cut to Live Performance:
It's a humid Sunday evening at Faith Church in New Orleans where a "Summer JAM" event finds Plus One sharing the stage with NewSong, Tait and a number of up-and-coming artists.

Have something to say about this article? Leave your comment via Facebook below!
advertise with us
Example: "Gen 1:1" "John 3" "Moses" "trust"
Advanced Search
Listen to Your Favorite Pastors