Point of Entry
Michael Nolan, CCM Magazine
Friday, August 20, 2004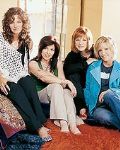 First things first as Denise Jones, Shelley Breen, Heather Payne and Leigh Cappillino assemble at 11 a.m. for a recording session at the Franklin, Tenn., home of producer David Zaffiro (Kim Hill, Tim Hughes) in late May. What's it going to be for lunch? A menu from a Chinese restaurant is produced and passed around as the pros and cons of each entrée are discussed.
"We have our priorities," laughs Leigh, an old friend of the group and the new arrival in contemporary Christian music's most relentlessly hit-prone quartet. Then the TV show "American Idol" is mentioned and opinions fly about who should win and why. "American Idolatry," quips Shelley, noting the passion with which views are expressed.
With those essentials out of the way, the girls settle into an animated conversation about the many changes that accompany this new version of the group.
Flashback for a little history lesson: When they started out, they were single girls fresh out of college with the stamina, independence and willingness to live out of hotels and tour buses. Today, all are wives and mothers in an entirely different season of life. "Back then, we would just go hang out in the mall during our downtime. Now, if our families are with us, we stop and find out where the Chuck E. Cheese's is," observes Denise.
It was the desire to stay home with her husband and three young children that compelled Terry Jones, one of the founding members, to deliver the bittersweet message to her girlfriends that, after 13 years, it was time to hang up her carry-on bag.
Saddened but understanding, Heather, Denise and Shelley didn't have to look far to find someone who would be in sync with their souls. Her replacement, Leigh, is hardly a stranger. In fact, her husband, Dana, is Point of Grace's musical director and has toured with the group for seven years. "She has such an incredible work ethic," says Denise of Leigh. "She practiced so hard that she really made us improve."
"One of our first concerts with her was technically one of the best performances vocally that we've ever given," applauds Shelley. In fact, Heather laughs that "Leigh was so on top of things that when she made a wrong move in the choreography, we all followed her because we figured she knew things better than we did."
Although she may be the "new chick on the block," Leigh says that she has been wholeheartedly welcomed as an equal member. "Women can sometimes be so hard on one another, but they are so gracious in accepting each other's differences," Leigh offers. "It's just a wonderful, encouraging environment for growth."
And part of that environment is the increasing role these four are playing in young women's lives. In fact, their concern for how today's youth will become the role models for their own children led them to create "Girls of Grace," a series of two-day seminars hosted by the group, which candidly explores what it means to be a woman of God.
Although they set plans in motion with the intention of influencing this generation of teenagers, it has, perhaps, been a greater catalyst for change among the members of the group. "'Girls of Grace' has taken us out of our comfort zones," states Denise. "It's made us realize that we can do more than we think we can. I think those kinds of things are going to show up on our new record and in our concerts."
"We've put ourselves in the situation of having conversations with girls who are going through things that just blow your mind," Shelley concurs. "We're just closer to it."
Have something to say about this article? Leave your comment via Facebook below!
advertise with us
Example: "Gen 1:1" "John 3" "Moses" "trust"
Advanced Search
Listen to Your Favorite Pastors