Presidential Briefing: Christian Music Leaders Speak Out
Thom Granger, CCM Magazine
Wednesday, May 04, 2005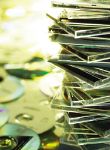 Bill Hearn:  I think a lot of those sales came from labels like Tooth & Nail, which sell a lot of product in the general marketplace. In the case of Jeremy Camp, in particular, almost 50 percent of his sales are coming from the general market.
TH:  We exceeded our general market sales last year by 35 percent, and that was without any support at mainstream radio for any of our records. It's really just due to a focused effort on retail, in general, as 50 to 60 percent of our sales now are coming from mainstream retail outlets like Target, Wal-mart, etc. We actually consider those to be Christian retail outlets for us in that they are sold as clearly Christian records racked in the Christian or gospel music section of their music departments.
This is not the same situation as Switchfoot, for example, that is being marketed as a pop act and racked that way in the mainstream. We really try to define these things by the artist's intent. Casting Crowns has no desire to be anything but a Christian band, yet its records sold very well in those outlets. We went platinum on that record in 15 months. It's extraordinary.
BH:  What's happening is that mainstream retailers are finally realizing that Christians are shopping in their stores, too, and that it's OK to put Christian artists on their samplers, end-cap displays or promotional items because a large part of their consumer profile is made up of faith-based individuals.
The real story about 2004 is that, since 2000, Christian music sales have been flat because in that same four-year period, sales of all music in the United States were down 15 percent. So during a very difficult economic period in the music business, Christian music held its own. So, in reality, we gained market share during that period because we went from about 5.5 percent of the overall music market to about 6.5 percent by maintaining flat sales.
The question is what do we do to grow sales? That's where I think you will see the industry becoming more creative, addressing the needs of the church more with worship music — which I've kind of termed the Christian pop music of the new millennium — and with the new stream of artists who are choosing to position themselves as mainstream artists as opposed to a crossover Christian music artist.
CCM:  Speaking of new artists, another trend seems to be that the AC/pop that defined contemporary Christian music for so long appears to be falling out of favor with the fans. Several historically top-selling AC/pop artists who released projects in 2004 sold far less than each did just a few years ago. Is this also a result of rock's increasing popularity, or are Christian music fans just ready for some new faces?
TH:  I think it's a function of a couple of things. I think the market turns over every so often, and there will always be a hunger for new artists in pop music. I think our opportunity with "new" is greater than it has been at any time that I can remember because radio is responding to newer artists much quicker than they have in the past and responding to a hotter AC sound more than in the past as well. We will probably release more records from new artists this year than ever before.
JVH:  I think it all gets back to the songs. So many records try to cover up an average song with great production, and it just never works. A great song has to have heart and meaning, be reflective of its culture, expressed by a poet and recorded by musicians who adequately carry that expression through the art of music to a listener who hears it and responds, "Yes! That's how I feel." Other things have value but none are as important as the core, which is the song. Make great songs and chances are, money and product are going to tend to change hands.
Have something to say about this article? Leave your comment via Facebook below!
advertise with us
Example: "Gen 1:1" "John 3" "Moses" "trust"
Advanced Search
Listen to Your Favorite Pastors