Presidential Briefing: Christian Music Leaders Speak Out
Thom Granger, CCM Magazine
Wednesday, May 04, 2005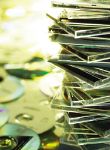 BH:  The bottom line is, while digital music is an important part of the future of the music industry, it is still only two percent of our total music sales, though our sales through digital increased five times from '03 to '04. So even though we expect to see exponential growth in digital music, we don't anticipate it being more than 20 percent of our business in the next 5 to 8 years.
What is wonderful about all of this is that consumption of music is at an all-time high. If you combine sales of physical CDs and digital downloads, music surpassed 800 million units in 2004, which is the first time it has been that high since 2000.
CCM:  What is your greatest challenge now, and what motivates you to face it on a daily basis?
JVH:  As a survivor of leukemia [Van Hook was on interferon treatments for over three years and has been declared cured for more than 2 1/2 years now], every day is a blessing and a gift for me.
As far as challenges go, obviously, Word knew it was losing Integrity Music months before its contract officially expired at the end of 2000. And as of Jan. 1, Word's market share dropped from 28 percent to 14.8 percent, so I came in with a full crisis in effect. The four things that I am focusing on are getting the right people in key leadership roles, managing the managers, changing the business model to address the changing landscape in the music business and changing the corporate culture.
BH:  The greatest challenge for us at the labels is to make the paradigm shift from thinking that the consumer relationship is the responsibility of the retailer, to one that desires to understand their needs and wants to better guide our marketing and A&R to provide music that is more relevant to them, making it available in ways that are more in line with their lifestyle.
I love change; I love a challenge, and this has been a tremendous challenge, to think of us as a music company as opposed to a record company that only produces plastic discs. There are no rules anymore, and that makes it exciting for people like me to be a part of changing things at this time. I'm just glad it happened at a time when I was young enough to cope with it!
TH:  I absolutely love music; and when I get up in the morning, I can't wait to listen to it. If one is not motivated by that love, I would imagine it would be a pretty dry experience.
We have the opportunities to do incredible things with our parent companies, but that also requires us to think in new ways; and the businessman in me loves that as well. We've got the biggest platform to take the gospel to people through music that we've ever had, and our challenge is to find the very best talent and make the very best music we can so that we have something to offer. Trying to break new artists is a daunting task; but when you find something that you can't stand the thought of people not knowing about, it's very motivating to go the extra mile to try and make it happen.
Pop Quiz
Gentlemen, take out a sheet of paper and number from 1 to 11 ...

1. If you could sign any artist in the world to your label, which one would it be?
Jim Van Hook: The Beatles
Bill Hearn:  U2
Terry Hemmings:  Sarah McLachlan

2. Of all the recent infiltrations of Christians/Christianity into mainstream culture, which one (outside of music!) is most intriguing to you?
Van Hook:  George W. Bush
Hearn:  Ministries focused on professional athletes and sports celebrities.  Their ability to  have an impact on the culture as role models is significant, and I am seeing more of that in the last few years.
Hemmings:  There are some television programs that have a positive impact and remain viable programming. "Seventh Heaven" is a good example.
Have something to say about this article? Leave your comment via Facebook below!
advertise with us
Example: "Gen 1:1" "John 3" "Moses" "trust"
Advanced Search
Listen to Your Favorite Pastors