Presidential Briefing: Christian Music Leaders Speak Out
Thom Granger, CCM Magazine
Wednesday, May 04, 2005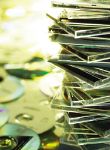 3. Which one in music?
Van Hook:  U2/Bono
Hearn:  Great music created by Christians.  Music from Christians is having more of an impact on mainstream culture than ever.
Hemmings:  I am watching The Afters.
4. Name your top three "Desert Island" discs.
Van Hook:  The Carpenters, Henry Mancini, Collection of Hits of The Bee Gees, Louis Armstrong. (However, I would prefer an iPod with my favorites included.)
Hearn:  My iPod with a long-lasting battery.
Hemmings:  Pink Floyd's Dark Side of the Moon, Dire Straits' Love Over Gold and Rich Mullins' A Liturgy, A Legacy and a Ragamuffin Band
5. Who do you think is today's most over-hyped mainstream artist?
Van Hook:  Britney Spears
Hearn:  Any finalist from "American Idol"
6. What's your usual at Starbucks?
Van Hook:  A latte
Hearn:  I try not to drink coffee.
Hemmings:  I prefer Peet's. I order it online.
 
7. What do you consider your greatest accomplishment in this industry?
Van Hook:  Starting with $500 and building the company [Provident] into one of the "big three"
Hearn:  Supporting great artists in achieving their vision
Hemmings: I consider the most important thing to be the number of people who have worked for us that are in leadership positions in this or other industries and companies. I believe one of the most important aspects of this job is to provide a platform for others to grow and succeed.
8. What is your most embarrassing industry moment?
Van Hook:  Passing on Sandi Patty in 1979
Hearn:  Why would I tell you that? I'd have to relive it all over again.
Hemmings:  Ironically, it just happened yesterday.  I was meeting with a new band and asked one of the guys if he was related to another.  They were sitting at opposite ends of the table, and I had not taken a hard look. Turns out they are identical twins.
 
9. What word or phrase do you most overuse?
Hearn:  "I was listening to you, honey!"
Hemmings: "Did we sell any records?"  Sometimes good news is just good news, even if it does not produce an immediate result.
10. a. Hard music or southern gospel?
Van Hook:  Neither
Hearn:  I am a pop music fan. Give me a great song any day!
Hemmings:  Hard music
b. Napoleon Dynamite or Ferris Bueller?
Van Hook:  Neither, but my friends tell me it would be Ferris Bueller.
Hearn:  Ferris Bueller
Hemmings:  Ferris Bueller, my life story
c. Simon, Paula, or Randy?
Van Hook:  Randy
Hearn:  I don't watch "American Idol."
Hemmings:  Peter, Paul and Mary (Actually, I have the most respect for Simon. He is direct, but most often correct.)
11.  Presidential Picks: Who would you like to see face off in the 2008 election?
Van Hook:  Rudy Giuliani vs. [Tennessee's] Governor Bredeson
Hearn:  The two or three people who believe in God, with the greatest character and integrity and who have the best interests of this country and our way of life as their platform.
Hemmings:  Arnie and Hillary — too bad it can't happen.

© 2005 CCM Magazine.  All rights reserved.  Used with permission.  Click here to subscribe.
Have something to say about this article? Leave your comment via Facebook below!
advertise with us
Example: "Gen 1:1" "John 3" "Moses" "trust"
Advanced Search
Listen to Your Favorite Pastors