Q&A with Christy Nockels
Lindsay Williams, CMCentral.com
Thursday, June 18, 2009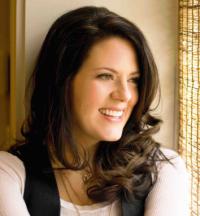 One of the most beloved voices in Christian music returns this month with a brand-new studio recording.
Dove Award-winning Christy Nockels (best known for her work with husband Nathan in Watermark) is back with Life Light Up, a solo effort and her first album bowing on sixsteps records. Nockels' new collection of powerful pop worship anthems fits in well with label-mates (and longtime friends) Chris Tomlin and David Crowder Band. Here, her songs find a new audience—more worshipful in nature than previous projects. Still, her signature vocals are what fuel the excitement coinciding with the release of this record.
Having recently relocated to Atlanta as she and Nathan help jumpstart Passion City Church alongside their sixsteps family, Christy takes time out of her busy schedule as a mom to share about her new record, her vision as a solo artist and this particular season in life.

CMCentral: Why is this the perfect season in your life to release a solo record?
Christy Nockels: That's a great question. To make a record, obviously the songs have to be present. In my life, the songs come as a response to what God is teaching me and showing me about Himself. So for there to be songs means there have been many lessons learned and many moments of recognizing again who He is and who I am because of it. I can say that God has shown up in my life over the past year like I've never seen in all my days. He has required new things of me, stretched me and ultimately "wowed" me with His presence in the most amazing way.
I know this might sound strange, but I don't recall very many moments of actually sitting down to plan or even write for this record. I get choked up when I think of it really. These songs came as I was washing dishes, doing laundry, cleaning toilets, picking up kids in the carpool line—carrying my little voice recorder around everywhere! Suddenly, I was up in the night, dreaming a chorus here and there, and waking up finishing songs. I have never felt more urgent about songs ever.
I realize that in the sweetest way (different from songwriting in the past) God has allowed me to take care of my kids and keep life spinning in their little worlds with joy. And all the while these songs were like a "soundtrack" in my heart in the midst of this new journey we're on. It seems the more I press into what sometimes can look like the "small things," the more He meets me where I am. He brings the "big things" in my life, and He amazes me over and over.
CMCentral: How is this record different than the previous work you've done with Watermark?
Christy: This record will, I'm sure, still have some of the "Watermark sound" because it's me ... and Nathan produced it, of course! Overall, there has been more attention placed on corporate worship as we've written these new songs. Watermark was always "worship" at the core but not necessarily used as a resource for worship leaders and the church. Watermark songs were more appropriate for a concert style setting in most cases. My prayer is that this record will be a creative tool for those who lead the local body in worship. I will be using these songs when I lead corporate worship at various women's events, conferences and my home church.
CMCentral: What was Nathan's involvement in this record?
Christy: Nathan's involvement in this record is somewhere in the category of seriously needing his own super hero name. When I begin to write, Nathan drops everything and, in the sweetest way, becomes fully attentive to what God is doing in me. Nathan arranged all of the songs and co-wrote most of them with me as well. I come to him with the basics—which is usually my sorry little voice recorder full of melodic ideas—and he makes them into something beautiful! He made demos for me of about 15 songs to give to Louie and Shelley [Giglio] at sixstepsrecords, and then we had them give us feedback. We worked as a team to pick the 11 songs that landed on the project, and Nathan has produced all of the tracks from there. I believe God has His hand on Nathan in a new way. He has always been gifted and appointed to do what he does, but there seems to be a new season of creativity for Nathan as well; and it has been beautiful to watch.
Have something to say about this article? Leave your comment via Facebook below!
advertise with us
Example: "Gen 1:1" "John 3" "Moses" "trust"
Advanced Search
Listen to Your Favorite Pastors