Q&A with Christy Nockels
Lindsay Williams, CMCentral.com
Thursday, June 18, 2009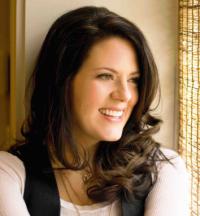 CMCentral: What do you hope to accomplish with this new record?
Christy: I've always said I feel like my calling as a writer is to help people put words and song to the things they long to articulate to God. It's amazing to watch people intimately connect with the living God and watch their lives "light up" as they worship Him in song. My prayer for this album is simply that God would use these songs, written with passion and joy, to help people renew their minds and hearts of what Christ has done and draw near to the Father. I pray it's a resource not only for worship leaders, but also for the individual in whatever season of life they are in, to sing their heart to God. I've also realized in recent years that as songwriters, we have the privilege of helping shape the words that are sung to God. With the right song in their mouths, people can change the world. My prayer is that I might contribute to that through these new offerings.
CMCentral: Is there a theme, lyrically or musically, that shows up on this album?
Christy: My thoughts go to the first single, "Life Light Up." It's a great representation of my heart in this season of life. I want to be found faithful and to live fully in what He has called me to do no matter the cost. We have a daily choice to follow Christ, and I want to give a voice to those longing to be found faithful in that choice to follow Him each day. Musically, I feel like they are some of my favorite melodies we've ever written.
CMCentral: What side of Christy Nockels will fans see with the release of this record?
Christy: For those who have heard my writing style and my voice, I think there will be many elements of familiarity. At the same time, I feel like it's going to be a great mix of the old and the new. I would say my writing is a little different on this record since I've shifted my focus in the past few years from a concert style setting back to my roots of leading worship. I've been leading worship for more than 10 years, and I feel like this record supports that calling and brings a new and fresh resource to those who love worship music.
CMCentral: Do you have a favorite song on this album?
Christy: I have several! If I had to pick just one, I'd say it's a song called "My Master." It came from a message my dad, a pastor all my life, used to preach when I was younger. It's out of Exodus 21:1-16. The message really impacted my life as a young girl. By using this passage of Scripture in his message he would liken the choice of Hebrew slaves to stay with their masters to our choice to follow Jesus at any cost—to publicly say, "I love my Master, I will not go free." For Hebrew slaves, if they chose to stay with their master, they would have the lobe of their ear pierced to mark them for life. When their ears were pierced, they bled indicating that with blood they had entered into a new covenant relationship—not one of force, but of choice. Looking to Christ as our Master each day is a beautiful existence. Part of the chorus lyric says, "I love my Master, I will not go free/I take your name and live in liberty ..." We are not our own; we belong to God, but we have a choice to live in that posture. We give our all to Him—serving Him with joy and freedom—and we have the honor of carrying His name as a child of the everlasting God!
CMCentral: Now that you are a mom and also instrumental in launching the new Passion City Church, what will touring/album promotion look like for you?
Christy: I'm a firm believer in taking life a season at a time. That's how we "roll" around here. For instance, from November to mid-January we were home just about every week and weekend, eating meals together, watching movies at home and just hanging with the kids. Now that spring has arrived and the church has officially launched, we are in a busier season of ministry, which includes much more travel. We just try to map things out ahead of time as best we can and leave room to breathe. The kids have always traveled well. They are always very resilient; that's why it's easy sometimes to over-commit to things. Because we've been in ministry with the Passion/sixstepsrecords folks for more than 10 years now, they know what my life looks like day to day, and they want to protect our family time as well. It's comforting to know they are looking out for those things and they truly care about our well being as a family.
Have something to say about this article? Leave your comment via Facebook below!
advertise with us
Example: "Gen 1:1" "John 3" "Moses" "trust"
Advanced Search
Listen to Your Favorite Pastors