Q&A with Skillet: Saving One Panhead at a Time
Andrew Greer, CMCentral.com
Thursday, September 24, 2009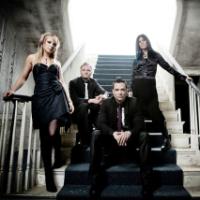 One of the most commercially successful and critically lauded bands in Christian music today, Skillet is famous for their tight connection with fans, affectionately calling their most loyal crew "Panheads." Lead singer John Cooper takes the time to personally speak into teens' lives both on and off stage. In a brand new interview, he tells CMCentral about the issues fans face and how the band addresses them.
CMC: Skillet speaks to a ton of teens through its music. Was that the band's intention from the beginning?
John Cooper: We wanted to write songs that were going to speak to people about what they were going through and encourage them. The way we do that has changed over the years. But that has always been my goal.
The only reason [Skillet was formed] was to do outreach for my church. I thought we were going to do a couple of outreach things, and I was going to keep playing in my other band. Then Skillet, for whatever reason, got some interest.
Truthfully, I've known this was my calling since I was 15. My life has been deeply affected by Christian music, and that's why I'm passionate about it.
CMC: I'm sitting here reading through several fans' testimonies crediting Skillet's music with saving their lives. This is heavy stuff.
Cooper: I ask God for my songs to touch people, and you never think it will happen in that big of a way. Shows how much a man of faith I am. [Laughs] It's shocking to me how many young people have considered suicide and been involved in cutting. It's especially shocking that a song could be so powerful that it would change somebody's mind. The No. 1 best thing about my job is writing a song that would change someone's life. I'm absolutely honored and blessed by that.
CMC: Being such a pivotal part of so many people's dark hours, do you have to exercise any healthy boundaries to keep from personalizing everybody's problems?
Cooper: When we opened up for Three Days Grace, or Flyleaf, there would be a lot of people drinking and doing what people do at mainstream shows. When I talk to people at those concerts I will get really down. I have to come back to the bus and talk it through with my wife and my band. The heartache they're going through, how dark their lives are, just presses down on me. I will feel like it's up to me to save this person. But after I pray about it, I feel a rejuvenating excitement about what God's called me to do. The only thing I can do about it is do Skillet—write songs about it, speak it in shows, love on people and pray that God is doing His job. You can't feed the Holy Spirit to someone.
CMC: How do you sort through all the issues teens face today and decide which ones to write about?
Cooper: At a show, a 14-year-old girl came to talk to me about how she literally wanted to kill herself. She was addicted to drugs and alcohol because she hates the way she looks. She thinks she's fat, she's disgusted with herself and she's anorexic. I thought, She's a cute young girl. How in the world could she think she looks so bad? That's when it hit me: This is not just unattractive people dealing with self-image issues. This is a real issue. I wanted to write a song about it.
When I feel God calling me to write a song about cutting, or about suicide, I think, "How in the world do you do that without being really cheesy? Or too preachy?" You gotta do something that has a message but feels genuine, not like you're coming down on people or trying to be on a soapbox.
CMC: "It's Not Me, It's You" is a song of empowerment, a song of finding identity in Christ, not in the way others treat us. Does a song like this allow teenagers to get out their angst over relationships gone bad in a safe setting?
Have something to say about this article? Leave your comment via Facebook below!
advertise with us
Example: "Gen 1:1" "John 3" "Moses" "trust"
Advanced Search
Listen to Your Favorite Pastors