Rachael Lampa: Growing Pains
Michael Tenbrink, CCM Magazine
Tuesday, October 19, 2004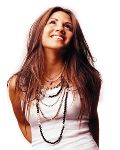 When I first met Rachael Lampa, she was 14. She had recently performed at the Gospel Music Association's "Seminar in the Rockies" in Estes Park, Colo., and afterward she ignited one of the most intense bidding wars in Christian music history. Major labels courted Lampa and her parents with great fervor for months to urge them to sign on the dotted line of a lucrative, multi-album record contract. Executives were touting her as "the next Céline Dion"; and, while such hyperbole is not so unusual in the music biz, this time the claims were being made by executives who believed it. Apparently, this young girl, just five feet tall on a good day, was what they call "the real deal."
So having known all of this, I was surprised to discover Lampa was the virtual antithesis of all the overly eager, aspiring artists in Nashville. For starters, she was so shy that her eyes spent more time directed at her shoes than anywhere else. Her mom, Marianne, did most of the talking that day. But Rachael did what, at least at that point, she did best: She sang. She grabbed a lollipop — no lie — and, using it as a prop "microphone," she sang for the industry types present. I'll never forget that moment: The realization that we had just seen a rare talent seemed to hit all of us in the room.
The other thing I remember from that day is that, as "uncoached" and unrehearsed as she was, Rachael seemed very certain of her calling. She may have been introverted, but she was not shy about her belief that God, Himself, had given her a gift and that she was supposed to use that gift to reach the world. In fact, she wasn't sure she was even supposed to sign a Christian record deal at all because she felt it might limit her chances to reach the people who most needed to hear the message she had to deliver.
Rachael, of course, signed with Word Records soon after our first meeting. Her contract included the rare "notation" that she was free to sign a separate pop deal, which would allow her to record Christian albums for Word and full-fledged pop albums for the world at large. But then she released "Live for You," her Word debut album, amid a media whirlwind that included appearances on "The Tonight Show with Jay Leno" and Barbara Walter's "The View" as well as coverage in Teen People, Seventeen and many other mainstream outlets. The project met with record-breaking (at the time) sales its first week, and it suddenly seemed that Rachael would not need a pop deal, after all, to reach the masses.
Fast-forward a few years. An awful lot had changed in Rachael's landscape. Her management company had been sold, and her record company had also been sold — not once but twice, in part resulting in the departure of at least 10 executives who had been influential in her early career. Her music had morphed from more adult contemporary sounds to the urban/R&B flavor of sophomore effort "Kaleidoscope" and "Blur," a 2002 remix project that even found Rachael collaborating with rappers.
For a time Rachael more or less disappeared. But, after two tumultuous years of often painful growth, she's back. Rachael is an engaging young woman of 19 now, with a new self-titled album, a blossoming artistic identity, a nose piercing, a new hometown, a new family dynamic and a confidence that comes after weathering a few storms.
But how bad could these "storms" be when she's only 19? Evidently, bad enough. For starters, over the past two to three years there have been a rash of suicides and attempted suicides in her small hometown of Louisville, Colo., population approximately 20,000. "There have been eight people — not people I knew closely. But it's almost a trend right now. It's affected so many people close to me, and I've seen how it affects families and schools. It just hit my heart really hard. I had to write about it because it was on my mind all the time."
Have something to say about this article? Leave your comment via Facebook below!
advertise with us
Example: "Gen 1:1" "John 3" "Moses" "trust"
Advanced Search
Listen to Your Favorite Pastors